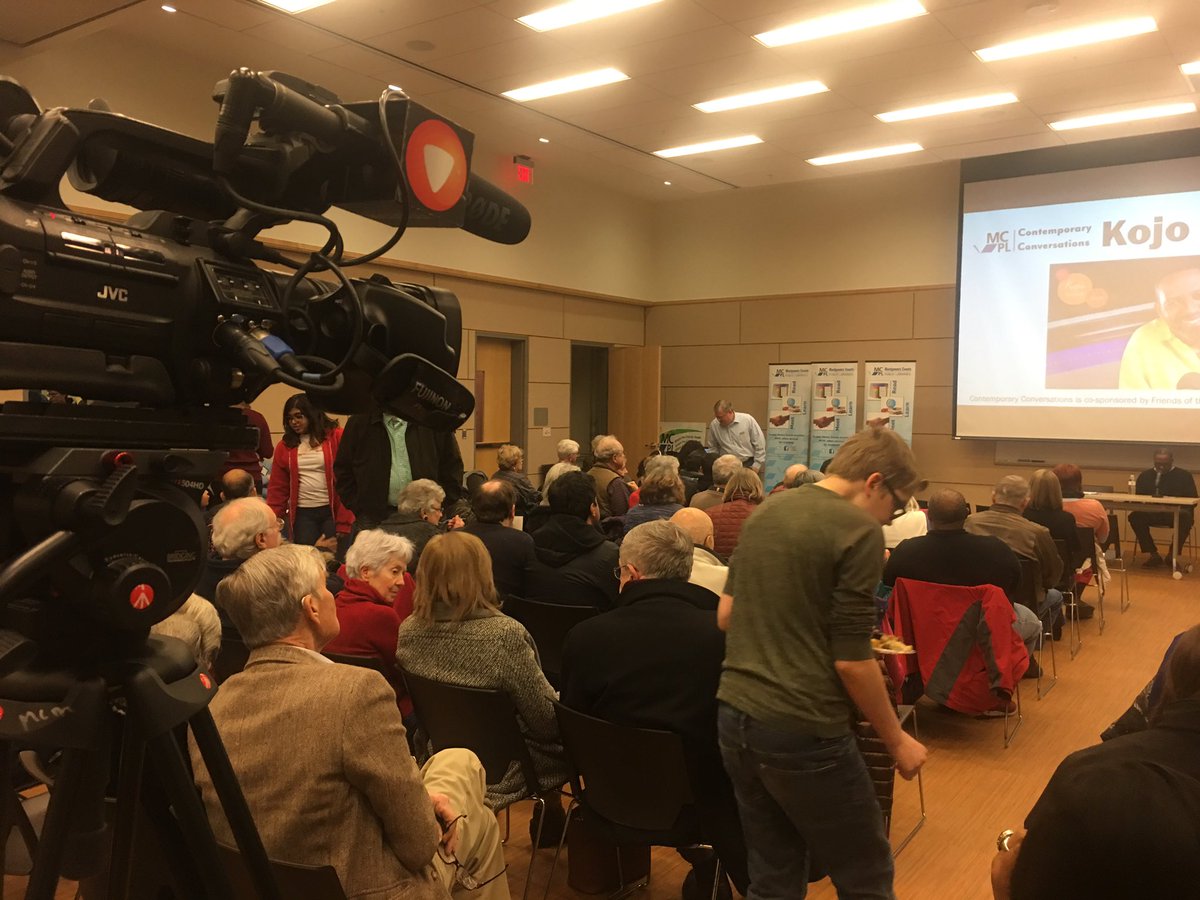 Kojo Nnamdi Kicks Off MCPL's New Contemporary Conversations Series (VIDEO)
In response to the community's requests for a program where experts and journalists could talk about current issues facing our community and nation, Montgomery County Public Libraries (MCPL) has launched a new series titled, "Contemporary Conversations."
"It's about knowledge, it's about community because communities really thrive on our ability to be informed," Montgomery County Executive Ike Leggett said. "Having people that can provide that information in a setting like this helps us become much more of a community."
Kojo Nnamdi, journalist and talk show host for WAMU, kicked off the series to talk about today's politics.
"There is significant party divide in the current political environment," Nnamdi said.  "The challenge that we have now is that if we could somehow use the two sides once again and talk to one another to find a language that appeals to both sides; but we haven't yet found one."
After introducing himself and telling the audience more about his life in Guyana, attendees had a chance to ask questions on various topics ranging from how to have a healthy conversation with people who disagree with you to his best and worst interviews with politicians.
"Here at the library, we're a convener of thoughts and what we saw tonight was learning how to behave in a very civil way and that's what the library is all about," Parker Hamilton, director of Montgomery County Public Libraries said.
Registration for this kick-off session at Gaithersburg Library filled up quickly but in case you missed it, next month's speaker in the series will be best-selling author David Ignatius on April 1.
You can find out more by clicking here.
Just arrived to @MCPL_Libraries in Gaithersburg for their new Contemporary Conversations series. @mymcmedia pic.twitter.com/Ed0AQQ1Lkp

— Mitti Hicks (@MittiMegan) March 4, 2017
The first speaker in the series is @Nnamdikid of the @kojoshow. @mymcmedia @MCPL_Libraries #mcplKojo pic.twitter.com/8QE82w5Ok8

— Mitti Hicks (@MittiMegan) March 5, 2017
.@GburgMD Mayor @judashman is here #mcplKojo @mymcmedia pic.twitter.com/qjfoqUEros

— Mitti Hicks (@MittiMegan) March 5, 2017