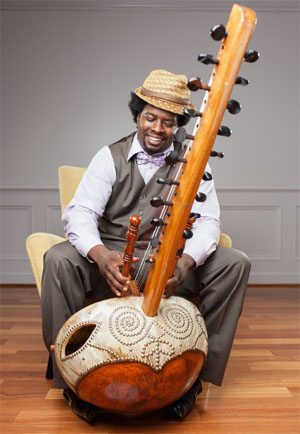 Kora Virtuoso Amadou Kouyate to Perform at Arts Barn (Video)
Gaithersburg's World Music Series concludes with a performance by Amadou Kouyate Saturday, June 6 at 8 p.m. at the Gaithersburg Arts Barn. Tickets are $25, $12 for youth 18 and under. Tickets may be purchased online or by calling the Arts Barn box office at 301.258.6394.
Amadou Kouyate, West African Manding Diali musician, is the 150th generation of the Kouyate lineage and has performed Manding since age three. Manding Dialolu are musicians sharing history through performances of ancient and contemporary songs. As an ambassador of African culture, Amadou's main instrument is the kora, a 21-string harp. His repertoire includes traditional West African songs from the 13th century to contemporary, original compositions incorporating elements of blues, jazz, soul, rock, and hip hop.
Amadou Kouyate performing a solo on the Kora from World Beat 101 in this video: