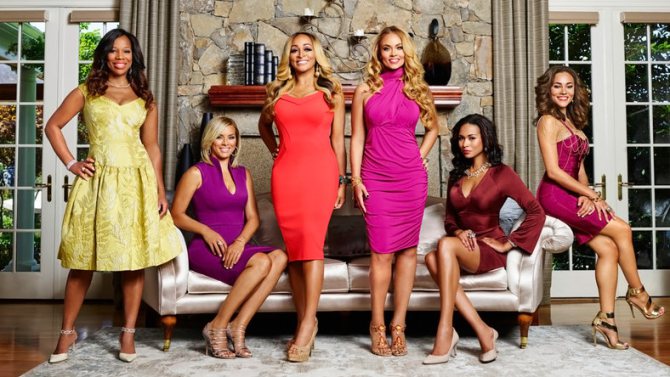 Laminate Ladies Who Lunch (Real Housewives of Potomac ReCap)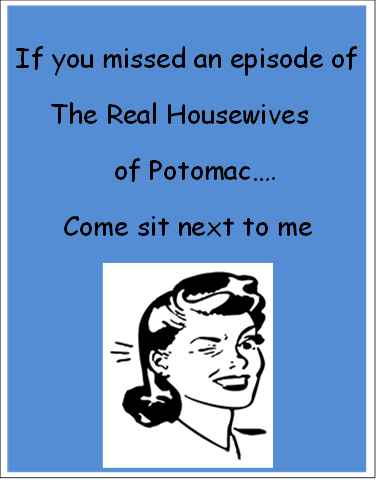 Week #2 of Real Housewives of Potomac (RHOPo) was all bad hair, bad kitchens and bad behavior. Pretty benign stuff for the franchise but somehow RHOPo seems so much more cringe-worthy.
Here are the highlights or errr lo-lights.
This episode resumes at Charrisse's "Crab Boil." Charrisee, who has more consonants in her name than anyone in Housewives history, cooked exactly one pot of crabs in her crappy kitchen with a center island half the size of mine and then invited 100 people over.
Note to Charrisse: If (read when) reality television doesn't work out long term, audition for Wheel of Fortune. Spin that wheel, buy some vowels and ask Pat Sajek if you can take one home to balance out your name. Use all other left over winnings to buy more food for your guests. You're welcome.
Gizelle, who thinks she is top dog, stormed out of that shindig after sparring with nearly everyone there. So selfless of her to leave more crabs for everyone else! She held her head high while her hairdresser/handler held her umbrella. Except it wasn't raining on the party in the backyard, only on the front steps.
Must be that crazy Potomac weather.
Gizelle is all about her "pedigree" in Washington DC. Maybe that is why her party hair looked like a Pomeranian was sleeping on her head. She was rockin' some bad bangs to match her bad attitude.
The big surprise this week involved Katie. No, not all that Jewish nonsense. We got the scoop on where she lives! Where you ask? Overlooking the greens of TPC at Avenel that's where. So now we forgive her a little for living in a (sniff) townhouse. Just a little.
I think it's going to take me some time and maybe some therapy to digest Katie's meeting with the Rabbi. It might have actually been more awkward than the "naked wasted" episode in OC or the "Johnny Depp vacation guy" with the New York ladies.
Which is saying a lot.
Aunt Dot came to call on Karen and family and was clearly having none of this reality television nonsense. She sat on the couch, complained about her warm tea and refused to be coaxed into saying anything. She's no show pony.
I LOVE HER.
Apparently, she is the main source of Karen's paralyzing etiquette neurosis although Dot never uttered "Potomac" or "etiquette" even once. Her screen time was immediately slashed because she didn't know the code words.
Damn.
Ashley joined the cast last night. We know for sure she's 26 years old because she said it twelve times in the first minute. Then she gyrated on the dance floor at a fundraiser to prove she was too young for hip replacement.
Gizelle, feigning amnesia about the earlier Pomeranean hair incident, accused Ashley of poodle hair. If we're being honest, this whole cast needs a Chaz Wen intervention. Teresa Giudice had better hair in prison than the follicle challenged Potomac ladies. Maybe Kim Zolciak from Atlanta can donate some wigs from her line or offer a special, secret Housewife discount code on QVC.
It's a sisterhood you know.
Anywhoo. Gizelle also dissed Ashley's pregnancy plan and called her nasty names. Snarky comments are the foundation of all Housewife frenemies so we were unfazed when Ashley vowed to get to know these "Potomac Women" better.
Sadly, bad, white kitchen cabinets are also a staple of the RHOPo. I suggest some of the money allocated for wigs shift to kitchen renovations. Or a GoFundMe Page. There must be a way. Bad hair and bad kitchens are just too much to bear in one Sunday night.
Speaking of kitchens, how awesome was Karen's husband as he lingered at the counter totally ignoring the orders she barked through the intercom? Last week he played to the cameras and fawned all over her. One episode in and he can't pretend for one more minute. He just. can't. even.
It's possible he might grow on me like Aunt Dot.
This week's only real moment came when Robyn and Katie were trying to wax philosophical about being non-ghetto, Potomac etiquette gals and one of the little boys kept interrupting to ask about swimming in the hot tub.
Over and over.
Louder and louder.
Just like my kids. It was so good I rewound it on the DVR and watched it twice.
They better give that boy a copy of the Potomac Etiquette Guide and train him up. Amiright?
What did you love this week? What made you cringe?