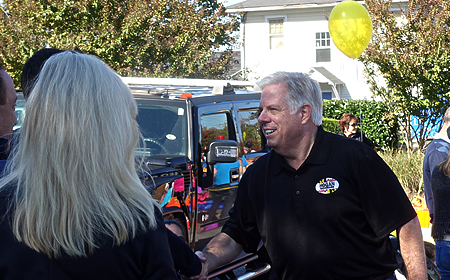 Larry Hogan Campaigns in Montgomery County (VIDEO)
MyMCMedia's Sonya Burke caught up with Republican gubernatorial candidate Larry Hogan on the campaign trail in Potomac this weekend and she asked him what he wants Maryland voters to know about his candidacy. Take a look:
ORIGINAL POST
Maryland Republican gubernatorial candidate Larry Hogan brought his "Change is Coming" bus to Montgomery County on Oct. 25.
Hogan campaigned at the Potomac Day Parade and then visited Rockville Town Square at lunchtime.
With just ten days to go, he said Montgomery County is a critical county in Maryland for his campaign for governor.
According to Hogan, New Jersey Governor Chris Christie will return to Maryland on Tuesday to help the Hogan campaign in Anne Arundel County. Christie was in Bethesda earlier this week campaigning alongside Hogan.
The General Election is set for Nov. 4. Early voting is underway through Oct. 30 at nine voting centers in Montgomery County.
Related: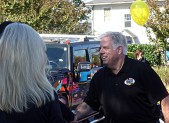 MyMCMedia's Sonya Burke caught up with Republican gubernatorial candidate Larry Hogan on the campaign trail in Potomac this weekend and she asked him what he wants Maryland voters to know about his candidacy. Take a look: ORIGINAL POST Maryland Republican gubernatorial candidate Larry Hogan brought his "Change is Coming" bus to Montgomery County on Oct. 25. Hogan […]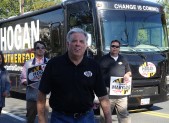 Maryland Republican gubernatorial candidate Larry Hogan brought his "Change is Coming" bus to Montgomery County on Oct. 25. Hogan campaigned at the Potomac Day Parade and then visited Rockville Town Square at lunchtime. With just ten days to go, he said Montgomery County is a critical county in Maryland for his campaign for governor. According […]