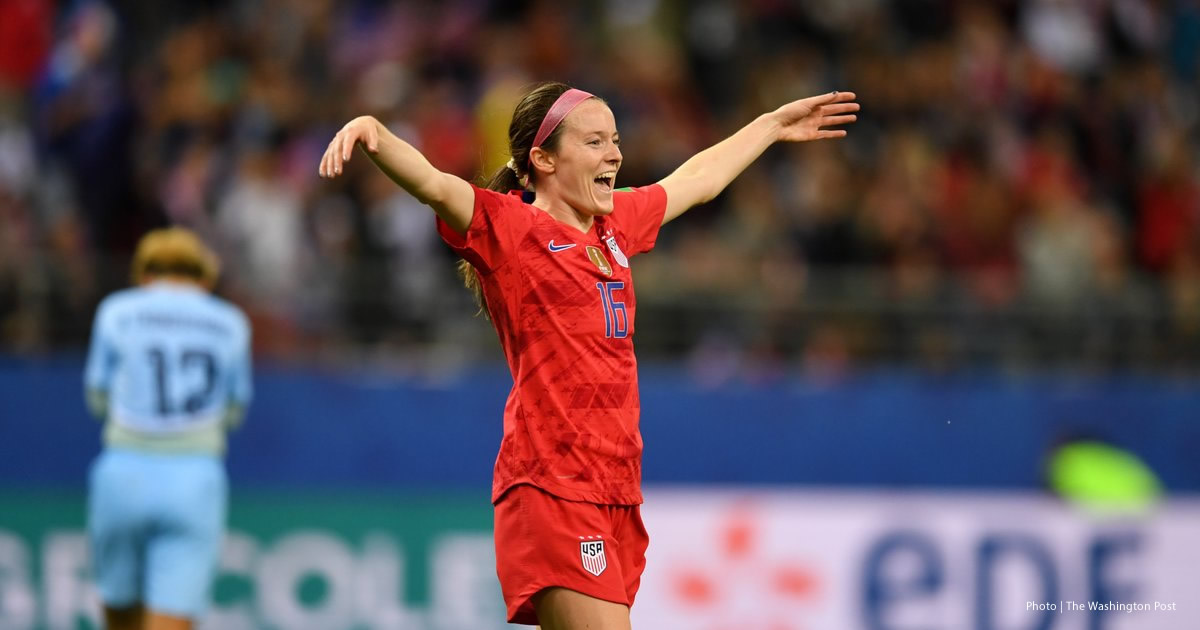 Lavelle Shows Spirit in US Team's World Cup Win
Washington Spirit midfielder Rose Lavelle scored the insurance goal in the US Women's National Team's 2-0 victory over the Netherlands with a blistering shot late in the second half of the World Cup finals in Decines-Charpieu, France. Fans from all over the globe praised Lavelle for her non-stop delivery and powerhouse performance. Lavelle scored three goals and one assist during the 2019 FIFA Women's World Cup, bringing home the Bronze Ball award (third most outstanding player in tournament) and her first world title.
Fellow Spirit teammate, Mallory Pugh, did not play in the final but scored five goals during the World Cup Tournament. Lavelle and Pugh will return to Washington later this month to finish off their season with the Spirit. The team's next home match is scheduled for July 20 at Maryland SoccerPlex in Boyds but Lavelle and Pugh are not expected back for that match.
The US Women's National Team will celebrate their fourth World Cup title with a ticker-tape parade in New York City this Wednesday.
Congrats to our own @roselavelle and @MalPugh on winning today! World Cup Champions! #WWC2019 #CatchTheSpirit pic.twitter.com/74yk8vguFd

— Washington Spirit (@WashSpirit) July 7, 2019
Congratulations to @roselavelle on winning the Bronze Ball! pic.twitter.com/ipAzloaClU

— Washington Spirit (@WashSpirit) July 7, 2019
Rose Lavelle's dog, Wilma, shares her excitement on twitter for her owner's goal.
THAT'S MY MOM https://t.co/X4GXglyaF5

— Wilma Jean Lavelle (@WilmaLavelle) July 7, 2019
She really ROSE to the occasion🌹 I'm a proud pup❤️ https://t.co/IeG3yAJ3Qr

— Wilma Jean Lavelle (@WilmaLavelle) July 7, 2019
Rose LaVelle is my favorite soccer player in the world 🇺🇸⚽️🇺🇸⚽️🇺🇸⚽️🇺🇸⚽️🇺🇸⚽️🇺🇸⚽️🇺🇸⚽️🇺🇸⚽️🇺🇸⚽️🇺🇸⚽️🇺🇸

— Landon Donovan (@landondonovan) July 7, 2019
Thank you @USWNT @roselavelle @mPinoe @julieertz etal for giving me and MY SON a once in a lifetime experience. Cheering on strong, intelligent, talented and brave women has changed our relationship and his life going forward. So PROUD of you. ⭐️⭐️⭐️⭐️!!!!!! pic.twitter.com/fuOmcJHp08

— Brandi Chastain (@brandichastain) July 7, 2019
Want to keep supporting the #USWNT after the #FIFAWWC19? Go to an @NWSL match, where many on the team play professionally! @roselavelle & @MalPugh play in our backyard in Rockville for the @WashSpirit. Their next home match is 7/20 at the @MDSoccerPlex. #TourDeFour #SupportWomen

— Delegate Jared Solomon (@jaredssolomon) July 7, 2019