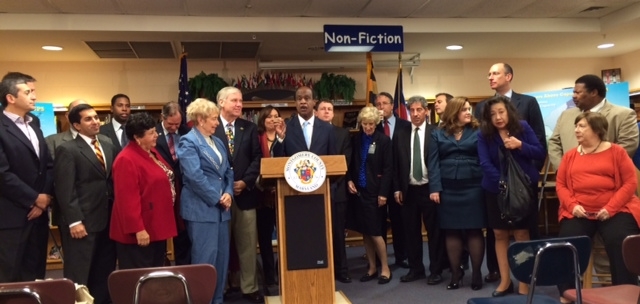 Leaders Seek $20 Million from State for Schools Construction (Photos)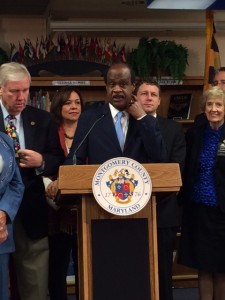 Montgomery County Executive Isiah Leggett  joined county, school and state officials on Oct. 31 to urge the Governor and the Maryland General Assembly to support legislation that would benefit Montgomery County Public Schools (MCPS) similar to a bill passed last year for the Baltimore City Public Schools. The legislation would jump start a public school building program to increase capacity and modernize facilities in response to MCPS' double-digit enrollment surge that is expected to continue unabated into the future.
From 2000-2012, MCPS grew by 14,599 students — more than the growth of Anne Arundel, Howard, Frederick and Baltimore counties COMBINED over the same period. The County's unprecedented increase in enrollment is the highest in the State and nearly half of MCPS schools are projected to have seat deficits by the 2018-2019 school year.
"We are known nationally for our school system, which contributes directly to our ability to attract and retain an educated workforce, business and industry," said Leggett. "To maintain the County's role as a key economic engine of the State of Maryland, we cannot allow our double-digit school enrollment increases – the highest in the State — to jeopardize our attractiveness as a place to work and live. That is why I am calling upon the Governor and the Maryland General Assembly to help us deal with our enrollment crisis. Despite the County's efforts to fund the capital needs of MCPS over the past seven years – even under the shadow and the challenges of the Great Recession — we have not been able to meet capacity and modernization needs. The longer MCPS is behind in providing adequate school capacity, the more difficult and expensive it will be to catch up."
"Solving the capacity crisis in our schools is Montgomery County's top priority in Annapolis," said Montgomery County Council President Nancy Navarro. "By making tough choices and strategic investments, Montgomery County was able to retain its AAA Bond Rating. In order to maintain our County's fiscal health, we need to create a partnership with the state to significantly increase school construction funding. Solving this crisis is not only a quality of life issue for students; it is also an economic imperative for the State of Maryland."
"We have a majority-minority school system with 33 percent of our students receiving free and reduced-price meals (FARMS), nearly 12 percent of students in special education, and 13 percent enrolled in English for speakers of other languages (ESOL)," said Councilmember Valerie Ervin, who chairs the Council's Education Committee. "This increasing education load, combined with our aging infrastructure and an influx of 14,000 students projected over the next six years, requires a major infusion of funding to invigorate our public schools building program."
Like Baltimore City, the County would seek $20 million from the State of Maryland to leverage a $40 million investment by the County. The funds provided in the legislation would supplement the County's share of new state authorizations for school construction, which has historically been only 11 to 12 percent. The $60 million revenue stream would support a bond issuance of about $750 million, which would fund construction projects over the next five years. The funding would provide for construction of 56 projects to add capacity at severely impacted schools.
"We simply cannot keep up with the tremendous growth we are experiencing, and we need to be creative as a community to solve our funding dilemma," said Christopher Barclay, president of the Board of Education. "We need our state partners to help solve this problem. We need to make sure our students have the learning spaces they need to thrive in their future."
"We are adding more than 2,500 students every year, and many of our schools are already bursting at the seams — and that growth is going to continue in the years to come. In fact, we've grown by more than 14,500 students over the last 12 years, and that's more growth than that of Frederick, Howard, Anne Arundel and Baltimore counties combined," said Joshua P. Starr, superintendent of schools. "I appreciate our County and state legislative leaders coming together to create an innovative solution to our growing capacity crisis so that we can make sure our students have the schools they deserve."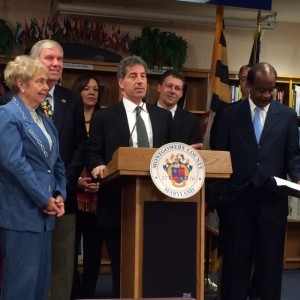 "As chairman of the Montgomery Senate Delegation, I saw what our delegation was able to produce last year when the Montgomery legislators, the Council and the Executive were united behind our transportation package, which everyone thought was impossible," said Montgomery Senate Delegation Chair Jamie Raskin. "And, a united Montgomery delivered on marriage equality, gun safety and repeal of the death penalty, too.  We are going to Annapolis in January determined to invest in the capacity and modernization needs of our County schools, which are overflowing with students.  To keep producing the number one schools in the country, we need to have the number one infrastructure for the learning and teaching environment."
"The excellence of Montgomery County Public Schools contributes to why our County is an incredibly attractive place to live, work and raise a family," said Montgomery House Delegation Chair Anne Kaiser. "Double-digit enrollment increases threaten our ability to continue to provide a top-flight education to all of our students.  With more money for school construction, all students will be able to learn in a real classroom with appropriate resources."
"The Montgomery County delegation unanimously supported last year's legislation to assist Baltimore City schools because of their unique situation, but now Montgomery County is in the midst of its own unique crisis that threatens to jeopardize our ability to provide an economic boost to other jurisdictions," said Senator Rich Madaleno. "We need help now, before the County and the state suffer economically."
Montgomery County enrollment accounts for 17.3 percent of statewide enrollment and is expected to grow to 17.8 percent by 2022. On October 28, Superintendent Starr released his recommended Fiscal Year (FY) 2015-2020 Capital Improvements Program budget that requests $1.55 billion over the next six years for 14 new classroom addition projects, including 12 at elementary schools, construction of five new schools and keeping some other previously approved revitalization/expansion projects on schedule. Even this request is far less than the district's actual pressing need, which is estimated at $2.2 billion. See MCPS' news release for more information.
The Baltimore City Public Schools Construction and Revitalization Act of 2013 was funded by $20 million in annual state lottery proceeds and $40 million in Baltimore City and Baltimore City Board of School Commissioners revenues.