Learning a New Language at MCPL's Conversation Clubs
Learning a new language can be difficult. Residents in Montgomery County, however, can participate in conversation clubs hosted at county libraries.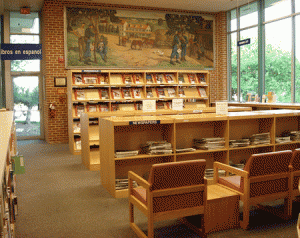 This program is offered in English and Spanish where people can practice a new language in an "informal" and "friendly" environment.
"Everyone is welcome and registration is not required. These sessions are discussions led by volunteers; they are not classes. Generally, they have about eight to ten attendees, although there are some that are larger," said Carol Legarreta, public services administrator for human resources and community engagement at Montgomery County Public Libraries.
The clubs are held in different times, days and locations. You can find English and Spanish conversation groups for the month of February at the Montgomery County Libraries events calendar.
"Generally, they have about eight to ten attendees, although there are some that are larger," she said.
On MCPL Shout Out Blog, residents can learn about latest events, books, movies and more available to county residents. The last post, on Feb. 18, talked about etiquette when having guests from another culture.
The post read, "Did you know that the Japanese response 'I'll consider it,' may actually mean 'No?' Or that Greeks may give you a handshake, an embrace, and a kiss at first meeting? Or that it is standard Arab practice to keep supplicants—that may be you—waiting?"
Legarreta added the library's World Language Collection can also help residents learn more about music, arts or literature from another culture. According to MCPL's website, since 1986 the libraries have been acquiring books and periodicals on Amharic, Chinese, Farsi, French, Korean, Russian, Spanish, and Vietnamese.
"But the best way MCPL can help a customer learn about another culture is to have a librarian guide their search – our staff can find books and materials, vetted websites, etc. that can assist such customers," Legarreta said.