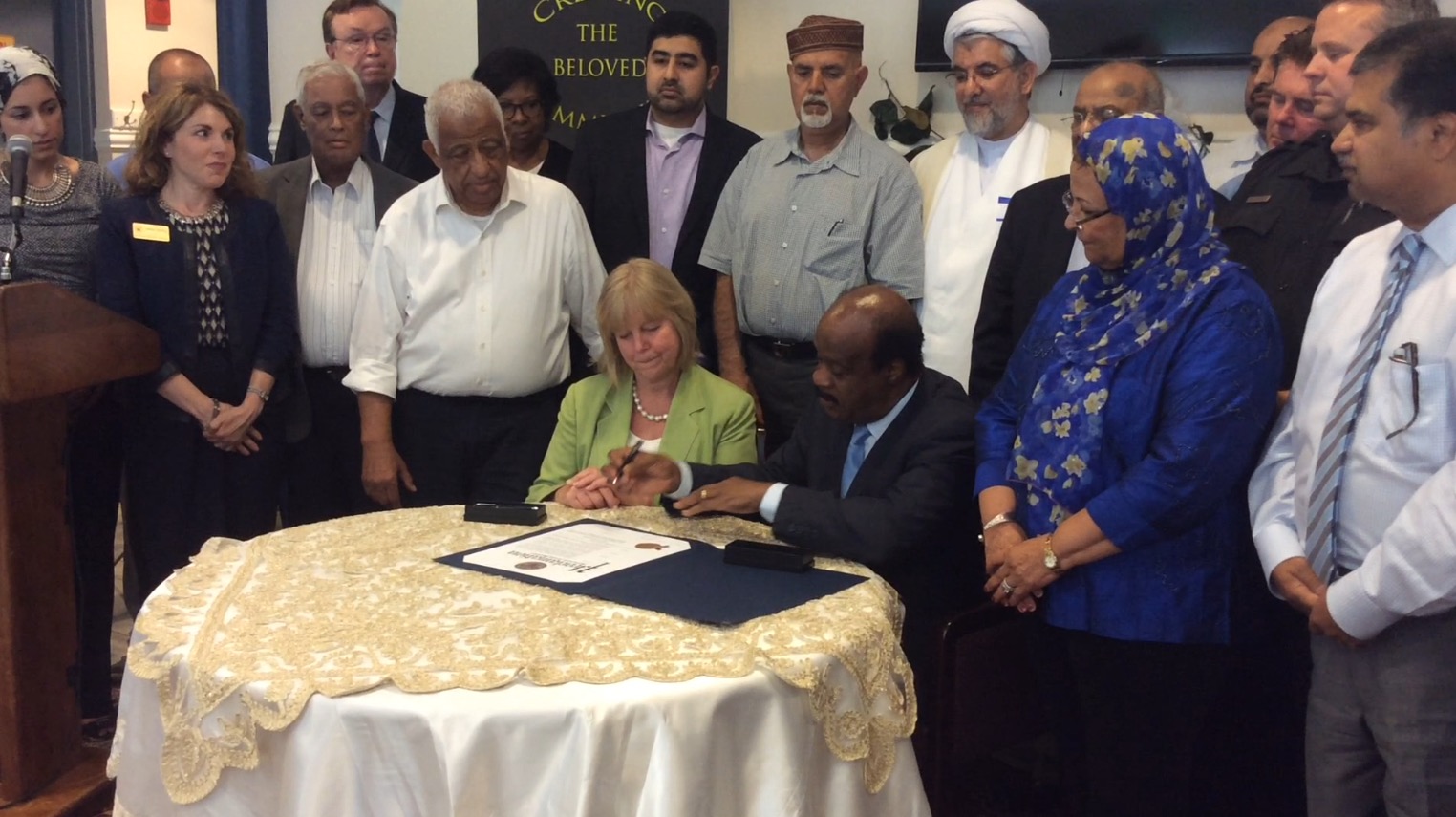 Leggett and Floreen Sign Muslim Solidarity Proclamation (VIDEOS & PHOTOS)
Montgomery County Executive Ike Leggett and Montgomery County Council President Nancy Floreen signed a proclamation today reaffirming the County's solidarity with the Muslim community.
Leggett and Floreen were joined by faith leaders, Montgomery County police officers and officials from Montgomery County Public Schools, and the County's Health and Human Services department at the Islamic Society of Germantown for the signing.
Watch Leggett's remarks at the event in the MyMCMedia Extra video, below:
Floreen also gave remarks at the event and said that it's especially important to show support to the Muslim community given the current climate in the country.
"In Montgomery County we value our diverse community and appreciate the contributions different religious, racial and ethnic groups make to our society,"  Floreen said. "In a time when Muslims are sometimes being unfairly harmed, harassed or stereotyped, I am proud to stand together with the County Executive and Muslim leaders in solidarity and affirmation of our shared values," she said.
Montgomery County Police, MCPS, and HHS also discussed initiatives that the County is working on to support the Muslim community.
In the MyMCMedia Extra video, below, Maria Navarro, chief academic officer for MCPS, says that Superintendent Jack Smith will be meeting with Muslim leaders next week.
County Executive says Muslim community is an integral party of County. @mymcmedia pic.twitter.com/Z3bFbN588B

— Maureen Chowdhury (@MediaMaureen) July 7, 2016
@NancyFloreen says "we will not tolerate xenophobia" @mymcmedia pic.twitter.com/2L95GFxfRT

— Maureen Chowdhury (@MediaMaureen) July 7, 2016
County Exec. and @NancyFloreen will sign a statement of solidarity w/ Muslim Community here today. @mymcmedia pic.twitter.com/LEqZKx9fJ8

— Maureen Chowdhury (@MediaMaureen) July 7, 2016