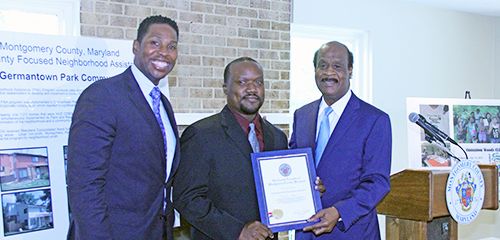 Leggett Highlights Partnership With Germantown Homeowner Association (VIDEO)
Montgomery County Executive Isiah Leggett recognized the Germantown Park Homeowners Association's (GPHOA) role focusing on a neighborhood assistance program on June 15th.
According to a news release, the County's Department of Housing and Community Affairs (DHCA) and GPHOA- formerly known as Cinnamon Woods- celebrated its public-private partnership where Leggett called the HOA a "strong" and "active partner" through the department's Focused Neighborhood Assistance (FNA) Program.
"This unique program has helped to transform the community image, improve energy efficiency, engage community youth and improve community safety. Germantown Park was a strong partner with the County, and this project would not have been possible without the HOA support," Leggett said.
The program launched in 2009 helps families who were identified geographically on "focus areas." The first two areas were the Mid-County Focus Area (in the Glenmont area of Wheaton) and the Upcounty Focus Area (in Germantown Park, formerly called Cinnamon Woods). The assistance goes directly to housing needs such as painting of exterior home trim, installation of vinyl siding, replacement of rotted wood elements with low-maintenance cladding and the repair or replacement of rotted wood fences and sheds, according to the news release.
Germantown Park was selected for renovations and was the first Upcounty neighborhood to benefit from the FNA program. Through this FNA program, DHCA established a partnership with the HOA in which the Division of Community Development extended DHCA's Exterior Home Improvement Program to homeowners in the community who were eligible for HUD Community Development Block Grant (CDBG) funds.
Other projects like public space lightning, Green Club for after-school programs, and Replacement Reserve Study were funded with a combination of CDBG funds, State of Maryland funds and Housing Initiative Program funds.
The HOA provided staff as well as a financial investment. For more than four years, HOA invested $679,842 through their Paint and Home Repair Program which complemented the Exterior Home Improvement Project. The organization also applied for the State of Maryland Consolidated Capital Bond, which contributed to the Public Space Lighting Improvement Project, still according to the news release.
This project received the 2014 Agency Award of Excellence from the National Association of Housing and Redevelopment Officials and a 2014 Achievement Award from the National Association of Counties.