Leggett Memo Surprises Council (VIDEO)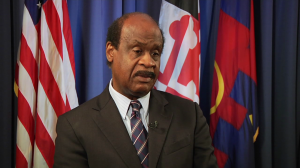 A Nov. 21 memo from Montgomery County Executive Isiah Leggett's office warns of spending limits.
The memo is addressed to Council President Craig Rice and reports that the November income tax distribution was $96 million less than estimated by the Department of Finance.
That's "significant," according to Leggett.
"The volatility of these revenues and the underlying economic conditions driving continued weakness in our overall revenue growth make it very clear that we must continue to exercise restraint in our spending plans," wrote Leggett in the memo. The memo was signed by Chief Administrative Officer Timothy Firestine because Leggett is traveling in India.
Leggett continued: "It is clear to me that this latest news requires us to be particularly cautious about undertaking new initiatives or adopting legislation with a fiscal impact, no matter how worthwhile or broadly supported..I urge the Council to be prudent and refrain from adding to the County's current obligations."
At his weekly briefing, Montgomery County Council President Craig Rice said the memo came as a surprise. Take a look:
You can read the memo in its entirety below.
Related: