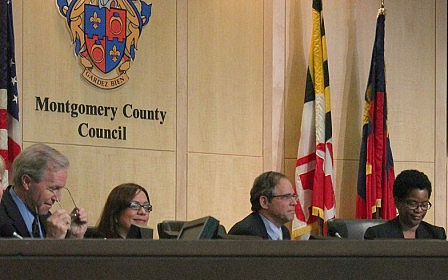 Legislative Oversight Report
The Montgomery County Council at approximately 9:55 a.m. on March 5, will receive a report from the Office of Legislative Oversight that reviews work hours, leave use and overtime hours of Montgomery County Government Executive Branch employees.
The Council's regular weekly session will begin at 9:30 a.m. in the Third Floor Council Hearing Room of the Council Office Building at 100 Maryland Ave. in Rockville. The regular meeting will be televised live by County Cable Montgomery (CCM—Cable Channel 6 on Comcast and RCN, Channel 30 on Verizon). The broadcast will be available via streaming through the County Web site at www.montgomerycountymd.gov.
The Council requested the Legislative Branch's Office of Legislative Oversight to compile the study in order to quantify how often County Government employees are present at their jobs. The results will allow the Council to better understand how attendance impacts both the use of overtime and the required total size of the County's workforce. The report offers recommendations on tracking and managing employee time and leave use.
The Council's Public Safety Committee, which is chaired by Phil Andrews and includes Councilmembers Roger Berliner and Marc Elrich, and its Government Operations and Fiscal Policy Committee, which is chaired by Council President Nancy Navarro and includes Councilmembers Valerie Ervin and Hans Riemer, plan to hold a joint worksession on the report on Thursday, March 14.