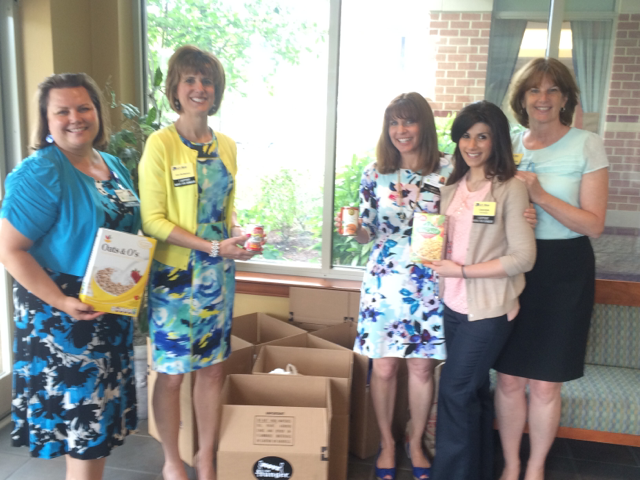 Let's Move and Riderwood Team to Fight Hunger
The summer season is traditionally the most difficult time for food banks across the nation to stock their pantries. While the need to serve their clients still exists, the focus of most people is on vacation and leisure activities.
The Sales Department of Riderwood, the Erickson Living retirement community in Silver Spring, teamed with Let's Move, a Maryland-based senior move management company, to give a boost to the cause.
During the week of May 11, they collected canned goods and non-perishable food items, highlighted by a sales event on May 13 that featured downsizing tips and a barbecue cookout. The result: residents, employees and event attendees contributed 632 pounds of food.
The project was performed under the guidance of Move For Hunger, a coalition of relocation companies that has formed one of the nation's largest year-round service programs. Their volunteers collect non-perishable food items from those who are moving and deliver it to local food banks.
"We are so proud that this year's drive at Riderwood will provide 527 meals to families and individuals in need," stated Kimberly Schoeberlein, Personal Moving Consultant at Riderwood. "Let's Move is one of our valued partners in providing relocation services to our new residents, and their affiliation with Move for Hunger continues to make a difference in Maryland."
Kim McMahon co-founded Let's Move in 2003. "We enjoy partnering with our Erickson Living clients in Maryland because of their eagerness to participate and overall generosity."
The scope of Move for Hunger is growing through the assistance of the National Association of Senior Move Managers, McMahon noted.
"We spend a lot of time working with clients in repurposing their items, whether that be antiques, shoes or food. The program gives incoming residents of senior living communities the opportunity to contribute in a meaningful way while they are downsizing," said McMahon.
For more information about the national program, please visit www.moveforhunger.org.