Lights Festival Benefits Local Charities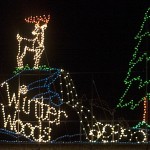 The City of Gaithersburg Winter Lights Festival welcomes visitors to Seneca Creek State Park for its 17th season. The Park is located at 11950 Clopper Road, just a few miles west of the intersection with I-270. The festival runs nightly from November 30 through December 31. It is closed on December 25.
In the spirit of the holidays, a portion of the admission proceeds from the 2012 festival will benefit eight local charities. Mercy Health Clinic, a non-sectarian, not-for-profit, community health care provider, offers free, high quality medical care, educational support and pharmaceuticals to uninsured, low-income adult residents of Montgomery County. The People-4-People Employment Assistance Program administered through Immanuel's Church is a collaborative outreach program that provides free employment assistance, educational training, and technical, consultant, spiritual, and emotional support to job seekers.
NAMI Montgomery County, the Montgomery County affiliate of National Alliance on Mental Illness, is a nonprofit grassroots organization dedicated to improving the lives of those impacted by mental illnesses. Rebuilding Together Montgomery County is a nonprofit volunteer organization dedicated to helping elderly and/or disabled low-income homeowners and families with children through home renovation and repair.
Hospice Caring, Inc. provides caring, compassionate, practical and high-quality, non-medical support services, without charge, to every Montgomery County resident who is facing a life-threatening illness or is grieving the death of a family member or loved one. Women Who Care Ministries is a faith-inspired, community outreach nonprofit organization that offers safety net services to those who are low-income and need assistance with overcoming hunger, domestic violence, homelessness, and substance abuse.
TLC – The Treatment and Learning Centers is a private, nonprofit organization that annually serves more than 2,200 children and adults with a wide range of special needs by offering a host of services within a single organization. Friends of Seneca Creek State Park, a nonprofit, volunteer "Friends" organization, is dedicated to the enhancement of the Seneca Creek State Park experience for visitors by providing financial support and other resources to the park.
Winter Lights is open Sunday through Thursday from 6 to 9 p.m., and Friday and Saturday from 6 to 10 p.m. The Festival is closed on December 25. Cash-only admission is $12 per car Monday through Thursday and $15 per car Friday through Sunday.
Winter Lights is sponsored in part by 97.1 WASH FM, Comcast, the Gazette Newspapers, Adventist HealthCare, Hughes Network Systems, Montgomery Magazine, Washington Parent, Battley Harley-Davidson, Language Stars, Spidersmart Learning Centers, Falun Dafa Assn. of DC presents Shen Yun, Whole Foods Market – Kentlands, and the Maryland Department of Natural Resources.
For more information and group admission rates please call 301-258-6350 or visit www.gaithersburgmd.gov/winterlights.