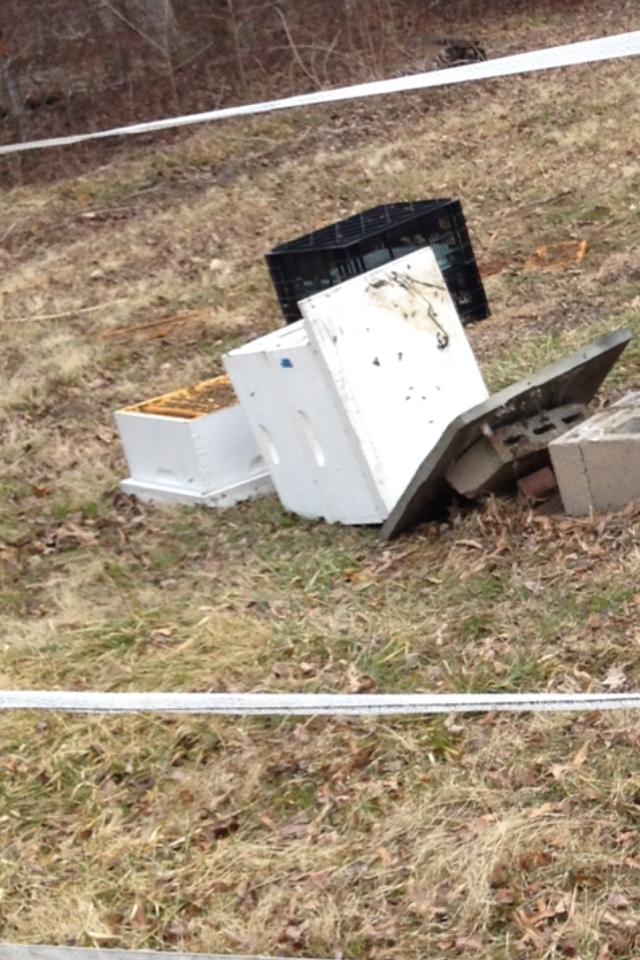 Like Bears to Honey: Beekeeper's Colonies Destroyed by Bear in Poolesville
There was something buzzing around Joe Long's bee colonies just outside of Poolesville Monday night and it had a taste for honey. At least 20 pounds of it.
From the looks of the damage and large paw prints on the ground Long said it was a 300 to 400-pound black bear that helped himself to honey in the colonies on Long's property off White's Ferry Road.
"I am not mad at this bear. He's just doing what he needs to do," Long told MyMCMedia Wednesday. "I was flabbergasted when I went to check the colonies on Tuesday all colonies but one was knocked over, the frames that were full of honey had been taken out. It looked like a bunch of bullies came in and knocked things down. There were bees everywhere."
Long has four bee colonies, three of which were destroyed, knocked down from their posts and dissassembled sometime late Monday night into early Tuesday morning.
Long usually has an electric fence charged but didn't have the fence on this week. He's not sure the extent of the damage, but he's got some angry bees. He'll be able to check the damage and see if any of the queens were killed on Saturday when the weather gets warmer.
"I am not sure if he ate bees but he pulled the frames from the boxes and scraped off honey and larvae and some pollen there," Long said, estimating the bear ate about 20 pounds of honey.
Ken D'Loughy, regional manager with the Maryland Wildlife and Heritage Service, visited the site to check out the damage. D'Loughy agreed the black bear is likely an adult weighing several hundred pounds. And, the bear is attracted to the food sources in town that are easy to find like bird feeders, trash and the honey in the bee colonies.
"In situations like this, once you remove food or create a deterrent that bear will move on. This time of the year natural food is in short supply and they are opportunistic,"  D'Loughy said of the bear.
Long said he plans to utilize his electric fence to protect his colonies.
If the bear killed the queens, Long said he won't be able to divide the colonies like he had planned.
"I'm not sure what the long term and immediate short term effect will be on the colonies. I have my fingers crossed the electric fence works. All in the know is I  can expect him to come back because he got honey and hives and brood, the larvae of bees, and once bears get a taste of it they are driven by it."