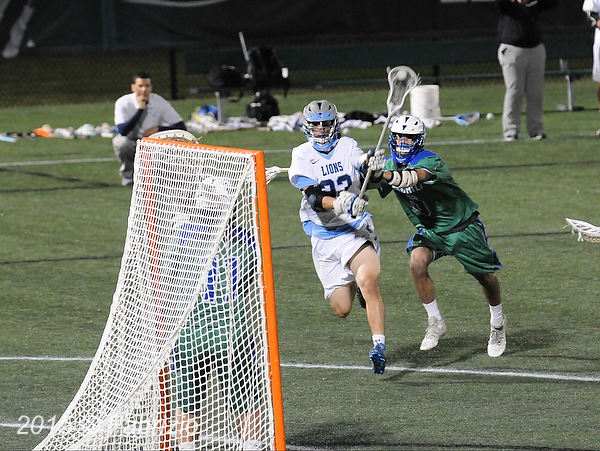 Lions Too Much for Bulldogs in Lax Finals (PHOTOS)
Balls bounce. Sometimes toward your favor other times they are just out of reach. And so it went for the Churchill boys' lacrosse team – balls bounced away.
Howard Lions boys' lacrosse team remained undefeated (20-0) in this their championship year thus denying the Churchill Bulldogs a chance to claim their part of MPSSAA lax history to become Montgomery County's first boys team to win a state lacrosse championship. Howard won 14-6.
Howard took an early command with a blistering 3-0 lead in the first 2:10 of the first quarter of this state championship game. By half it was 9-2 in favor of the Lions.
The ball found open Bulldog goal creases and attractive empty pockets of the Lions sticks all night. They took aggressive advantage taking over 25 shots on the Bulldog goal and scoring on 14 of those. Meanwhile Churchill's game seemed like a replay of an old Mitch Miller TV show where the sing-along was for those who followed the bouncing ball across the words on the screen. The bouncing lacrosse ball never seemed to lead the tune in favor of the Bulldogs game.
Churchill eventually found success with attack man #3 Reed Moshyedi who scored 3 times but the Lion defenders held University of Maryland recruit Louis Dubick scoreless until the 4th quarter. Of the 20 Bulldog shots on goal only 6 of those safely found the goal netting behind Howard's goalie #6 Colin McClelland. To me he was the difference maker in this championship game.
Take a look at the sampling of photos I provided MCM from last night's game. It was a great effort by both teams and a learning experience for the Bulldogs to build upon for next year.
Photos | Phil Fabrizio
@Photoloaf