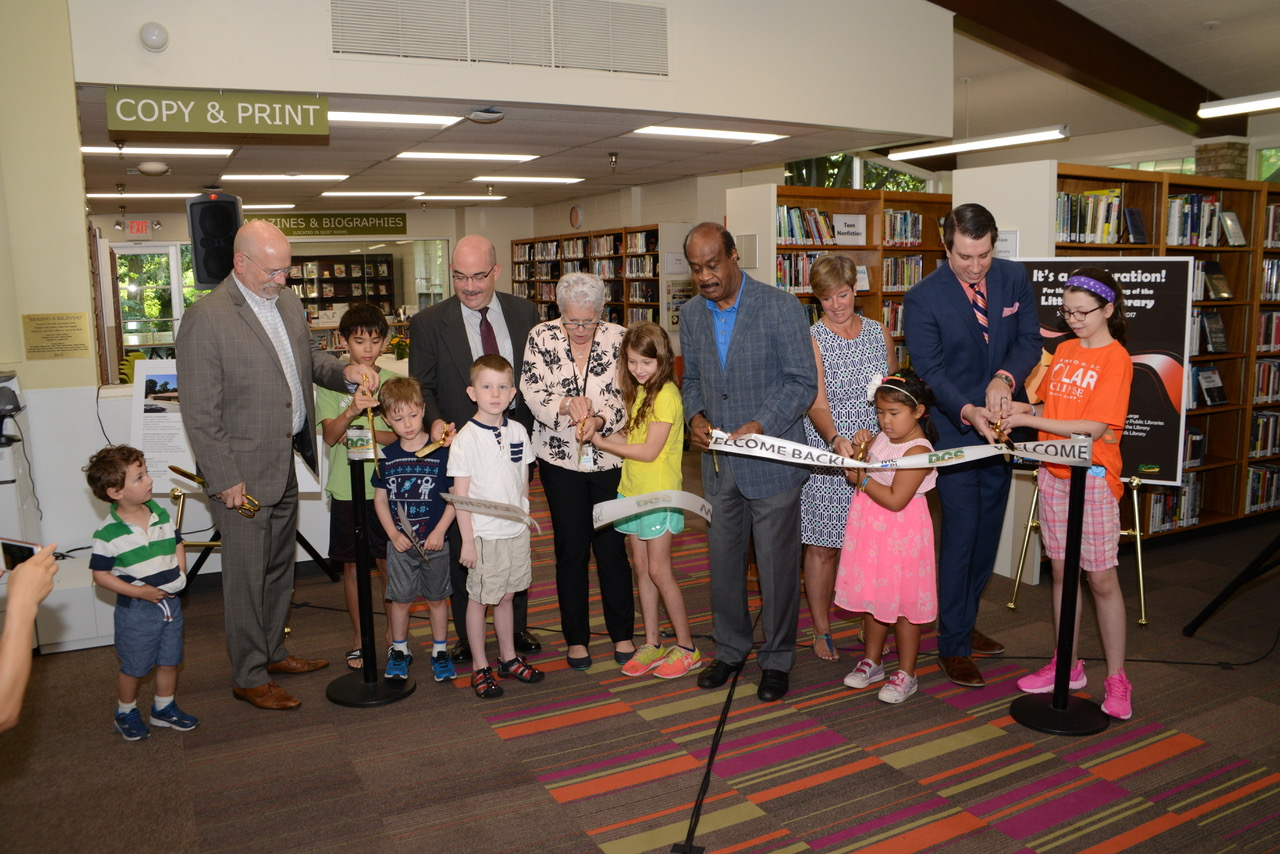 Little Falls Library Branch Celebrates Completion of Refresh Project (PHOTO)
Montgomery County officials are celebrating the grand reopening of the Little Falls Library branch with a ribbon-cutting ceremony Aug. 26. The $1.1 million refresh project took 12 months to complete, after a water pipe break in December caused a delay with the project.
County Executive Ike Leggett was joined at Saturday's celebration by Councilmember George Leventhal, General Services Director David Dise, Libraries Acting Director Anita Vassallo, Little Falls Library Manager Patrick Fromm, Little Falls Friends of the Library President Jane Snyder and members of the community.
"It is a pleasure to celebrate the official reopening for the renewed Little Falls Branch," said Leggett. "This is the fifth library that has been reopened under the Refresh Program, which gives us the opportunity to keep our libraries fresh and upgraded and saves our residents thousands of dollars."
"The refresh of the Little Falls branch library comes at a great time, "said Leventhal, Chair of the Health and Human Service Committee. "With students preparing to return to class, the enhancements at Little Falls Library will not only provide an array of technological upgrades, but will also provide an environment conducive to learning."
According to county officials, the improvements to the library included a new information and circulation customer service desk, redesign and reorganization of the children's area, new roof, new carpeting, paint, renovations to the public restrooms, new furniture and select new shelving in the Children's and Teen areas, improved Wi-Fi and enhancements including a digital display and new energy-efficient lighting fixtures.
The library's reopening from its refresh was delayed when a 4" water pipe break in December 2016 caused significant flooding in the lower level of the facility. The Department of General Services had to replace major equipment including heating, ventilating and air conditioning, electrical systems, controls, technology network, telephone equipment, and cabling.  Concrete, asphalt and plumbing repairs were also completed.  The work on the "refresh" had to be halted until the damages were completed.
"The pipe break caused a significant setback but we worked hard to repair the damage and get the project back on track," said Dise. "I appreciate the patience of the Little Falls community and know they will enjoy their bright, vibrant library."
"Everyone was disappointed when we learned about the extensive damage from the water pipe break," said Vassallo. "Now that this is behind us, we know the community will enjoy the redesigned interior, the enhanced technology, and the refreshed collection."
According to a county news release, the Friends of the Library, Little Falls Chapter made a generous donation to fund enhancements for this project including a "wall" featuring Pre-K early literacy interactive elements in the meeting room in the lower level.
The Little Falls Library reopened today in Bethesda. Info about the reopening & the newly refreshed building here: https://t.co/Lisc0CgksD pic.twitter.com/dRgSbAX3Mr

— Montgomery County MD (@MontgomeryCoMD) August 26, 2017