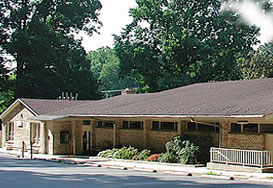 Little Falls Library Branch to Reopen on July 29
The Little Falls Branch of Montgomery County Public Libraries will reopen to the public on July 29 at 10 a.m., according to a news release.
A water pipe break in 2016 caused the Department of General Services to replace major equipment including the heating, air conditioning, electrical systems, and telephone equipment.
"The water pipe break caused extensive damage to the Little Falls branch, which significantly delayed the reopening," MCPL Director Parker Hamilton released in a statement. "We want to give the community their library back as soon as possible, so the decision was made to have a soft opening on July 29 followed by an official opening ceremony in late August."
Montgomery County Ike Leggett is expected to join residents for a ribbon-cutting ceremony on Aug. 26 to celebrate the branch's refreshed look.
The ribbon-cutting ceremony will begin at 10 a.m., at 5501 Massachusets Avenue in Bethesda.
Residents can expect a new circulation and information desk, upgrades to the restrooms, replacement of furniture in the reading rooms, enhanced Wi-Fi and more.
The Bethesda branch will close to begin its refresh at the end of business on Aug. 6.
A pop-up library will be placed at the Bethesda-Chevy Chase Regional Services Center located at 4805 Edgemoor Lane in Bethesda.
The temporary library is planned to be in operation on Wednesdays from 11 a.m. to 2 p.m., beginning Aug. 9, according to a news release.