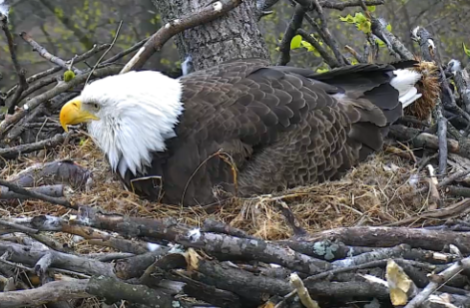 Live Eagle Cam Captivates, Eaglet Watch
Forget the Panda cam, the Eagle cam is now the talk of the town.
A 24-hour live camera is focused on a Bald Eagle nest in a Tulip Poplar tree at the U.S. National Arborteum and that video feed is capturing the attention of the nation on social media, #dceaglecam.
Earlier this week, one of the eggs began hatching and now viewers are on egg-watch alert for the hatching process to begin on the second egg. That's called "eaglet watch."
You can watch live, here.
The eagle has landed (via stork!) Welcoming a new eaglet at USDA's Nat'l Arboretum https://t.co/J4lIYm2aGp #EagleCam pic.twitter.com/EUsEZcbaIU

— Dept. of Agriculture (@USDA) March 18, 2016
The newsroom is still captivated by #eaglecam. @maustermuhle @KGoldgeier pic.twitter.com/Fr9jideI3h

— WAMU 88.5 News (@wamu885news) March 17, 2016