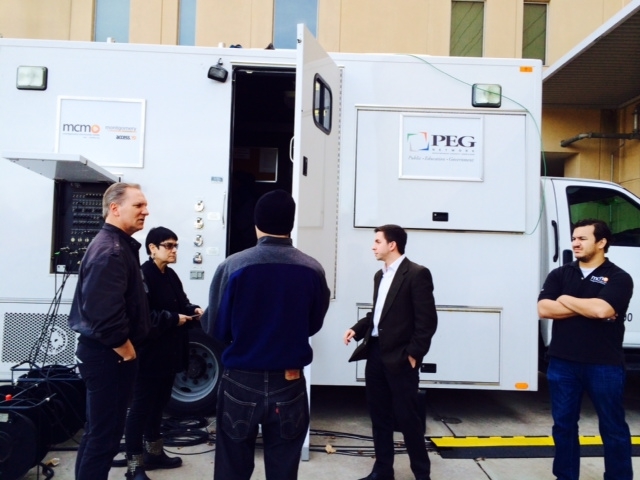 LiveU from Strathmore (Photos)
Montgomery Community Media's (MCM) production services department is celebrating the success of its LiveU backpack broadcast of the Martin Luther King, Jr. tribute and musical celebration at Strathmore on Jan. 20.
Production Manager and Executive Producer Tony Zucconi said this is the first time the annual event has been broadcast live on Montgomery Channel 21. County Cable Montgomery (CCM) and Takoma Park TV also carried the tribute live.
According to Zucconi, there was a lot of testing that went into making sure the live signal would work for broadcasting.
"Testing began two weeks prior to the event by testing the LiveU backpack at MCM's headquarters," he said. "LiveU works by transmitting a video signal through cell phone towers. The feed is then received in MCM's control room where it can be routed to our channel.  A week before Monday's event MCM's technical extraordinaires tested LiveU's ability to send a feed from behind Strathmore.  Everything at this point was relying on the closest cell phone tower's ability to accept and send the transmission.  The test was successful, and we proceeded with our plan to go live."
Zucconi credits MCM employees Pat Thorpe, Mike Valentyne, Jimmy Albert and CCM's Richard Turner in making the live broadcast a success.
As for the number of staff involved,  Zucconi said it takes 15 people to pull off such a production. The roles include an executive producer, producer, on-site truck engineer, on-site backpack engineer, two engineers at the station to accept the feed (one at MCM and one at CCM), four camera operators, one director, one technical director, one chyron graphic operator, one audio operator and one playback operator to coordinate the signal with our on-air programming.
"Brittany Dorsey was the director. She called the shots as they happened live," said Zucconi. In the truck with her, Zucconi said, was Jamie Fain, Barbara Krieger, Ally Potter, Harold Dawling, Anne Marie-Hainer,  Mike Bailey and Paul Likos. "Bryan Lyles was producing," said Zucconi.
As for the other Public, Education and Government (PEG) stations, Zucconi explained that MCM's transmission is sent to the County Office Building, which houses the Transmission Operations Center (TOC).  "That is where all of the PEG stations send their broadcast transmissions," said Zucconi. "Then, from TOC, the signals are sent to Comcast, Verizon and RCN. MCM's LiveU feed was transmitted to MCM's control room and then fed to TOC. The Fibernet connection was sent to TOC, which was then fed out on CCM and Takoma Park's channels."
Planning for this production began late last year.
"Preparation for these events are in the works months before the actual day of the event," he added. "We made a public service announcement informing the public that the event was coming up in December. Planning for that started in November. After New Year's, as soon as we got the program and script for the Martin Luther King, Jr. event we started building graphics for the show. Bryan Lyles pre-built graphics, the show open video and closing credits so that we would have them available for the live broadcast."
If you missed the live broadcast, you can watch the rebroadcast on Montgomery Channel 21. Organizers tell us that they keep hearing from audience members that this year's event was the best ever.  The show airs next on Feb. 4 at 8 p.m. and Feb. 5 at 2 p.m. on Montgomery Channel 21.
Look for more LiveU productions in the near future as well some live streaming of local events.
"The next live event will be available online via You Tube streaming on Feb. 10 for the Latino Leadership Summit," said Zucconi.
That event takes place in the television studios at MCM's headquarters in Rockville.