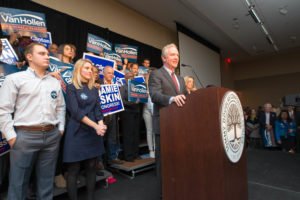 Local Officials Support Senator-elect Chris Van Hollen (VIDEO)
After serving 30 years in the U.S. Senate, Barbara Mikulski has retired and now the torch has been passed to Chis Van Hollen.
"Senator Mikulski has been a pioneer for Maryland and politics," said U.S. Senator-elect Chris Van Hollen. "I always say when Senator Mikulski is with you, the force is with you and I'm really glad to have her support."
Van Hollen gave up his seat representing District 8 in the U.S. House of Representatives when Mikulski announced her retirement. With his Senate victory, state and local elected officials say they are confident in his ability to lead in Washington.
"He is a force in politics and I think he will be a great senator for the state of Maryland," said Maryland State Senator Richard Madaleno.
"We're going to have a senator who really knows our area inside and out and who will be ready from Day 1 to advocate for Metro and for all the region's challenge," said Montgomery County Councilmember Tom Hucker.
(VIDEO) A big night for @VanHollenForMD: https://t.co/HfMJLnJho5 pic.twitter.com/CbxwEncX5S

— MyMCMedia (@mymcmedia) November 9, 2016