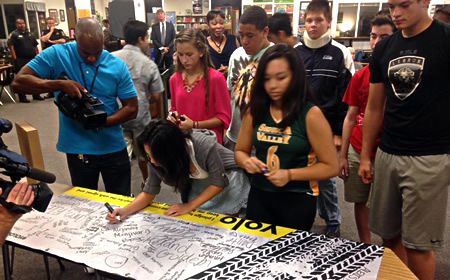 Local Leaders Announce YOLO Program to Curb Pedestrian Crashes Involving Teens (PHOTOS)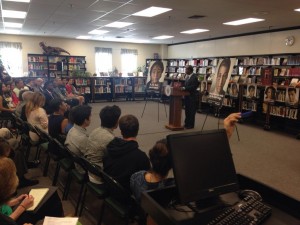 UPDATED- Montgomery County Executive Isiah Leggett, County Council President Craig Rice and Vice President of the Montgomery County Board of Education Patricia O'Neill today announced the launch of a new education program to reduce pedestrian crashes involving teens. Other speakers included: Montgomery County Council members Cherri Branson and Roger Berliner, Seneca Valley High School Principal Marc Cohen and Gwendolyn Ward, mother of Christina Morris-Ward.
Developed by the Montgomery County Department of Transportation (MCDOT), the YOLO (You Only Live Once) campaign includes a toolkit that will be distributed to every County high school to reduce students' risks by reminding them not to walk while distracted. The event was held at Seneca Valley High School in Germantown where, in October 2012, 15-year-old Christina Morris-Ward was struck and killed as she crossed the street on her way to school. According to Safe Kids Worldwide, about half of students ages 15 to 19 say they use a cell phone when walking to school.
YOLO expands on a program begun during the past school year called "Walk Your Way," that encouraged teens to apply for $2,000 grants to create, design and implement their own pedestrian safety campaign at their school. Four schools and one non-profit group comprised of high school students completed projects using the grants.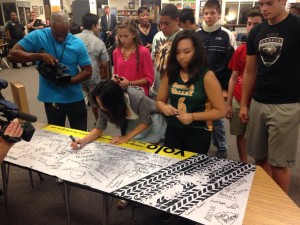 "We want to prevent the tragic consequences of distracted teen walking and driving, and one of the best ways to reach teens is by involving them in educating their peers," said Leggett. "The YOLO campaign empowers students to use their creativity to convince their friends that crossing the street or driving while texting, playing handheld games, listening to music or engaging in phone conversations is not only a bad idea – it could mean the difference between life and death. And, we hope that parents set the example for their children by also putting away their devices when driving or walking."
"Peer pressure can work against teens making good decisions, but we know that it can also have a very positive effect," said Rice. "That's why I am so excited about partnering with our high school students on the YOLO campaign. They continue to come up with fantastic ideas to creatively persuade their peers to take pedestrian safety seriously, and that's exactly what we need."
"There is no higher priority than making sure our students are safe," said O'Neill. "We are grateful for all of our County and community partners that are working with us in this effort to teach our kids to be safe and smart as they walk to and from school."
"Christina would have been a senior this year, said Ward. "I want to challenge all seniors, all students at Seneca Valley and all our high school students to pay attention to these safety messages. I don't want another child, another family to suffer what I've gone through."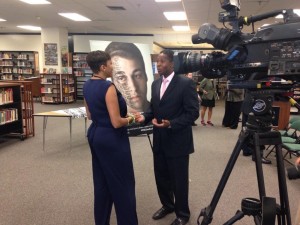 YOLO is designed to raise awareness of the risks of distracted walking and other dangerous pedestrian behaviors. The toolkit, which is available online, contains:
* A guidebook on developing and implementing a school pedestrian safety education program;
* Ideas for events/education campaigns that could be conducted by a partnership of students, parents and PTAs;
* A USB drive with digital resources, including web banners, electronic poster files, and a video public service announcement entitled "Moment of Silence;"
* Campaign posters;
* Static clings for restroom mirrors;
* Sample morning announcements;
* Pledge banners;
* A customizable letter/email for parents in English and Spanish;
* A parent tip sheet in English and Spanish;
* Social media plan including graphics and pre-written tweets and posts; and
* Talking points for meetings or assemblies.
Each year more than 400 crashes involving pedestrians occur on Montgomery County roadways. Teens ages 15 through 19 make up half of all underage pedestrian fatalities. In Montgomery County, when pedestrians in this age group are found at fault in collisions, they are most often teens. According to Safe Kids Worldwide, one in five high school teens cross the street while distracted by electronics.
The Walk Your Way grants awarded last school year went to:
* Northwood High School: With the help of an artist, students created a sidewalk art piece with a pedestrian safety message.
* Wheaton High School: To improve safety during construction activity that restricted access around the school, students printed two large maps of the school area outlining construction zones and hazardous areas that were off-limits. They also installed red tape to warn distracted students away from dangerous areas.
* Richard Montgomery High School: Students and staff created a Safe or Sorry campaign focusing on pedestrian safety, driver safety and internet safety that included videos; emotional assemblies and giveaways to enhance safety, including reflective buttons and t-shirts.
* Bethesda Chevy-Chase High School: Students distributed bracelets during lunch periods with the safety messages Jaywalk or nah? Nah and Don't use a crosswalk? Smh (Shaking my head). Students also made announcements about pedestrian safety.
* The Leaders Institute, a youth-serving nonprofit organization comprised of students attending Bethesda Chevy-Chase High School: During the lunch period, students performed a pedestrian safety skit they wrote demonstrating how making one bad decision to text and walk can ultimately result in getting hit and injured or killed by a car. During the skit they also discussed pedestrian safety statistics, asked questions of the audience and gave out prizes. Students received training by County staff to conduct a crosswalk simulation activity for elementary school students at Healthy Kids Day and the Takoma Park Safe Routes to School 5k Race.
More information about the YOLO and Walk Your Way campaigns are available online at http://montgomeryschoolsmd.org/safety/ and montgomerycountymd.gov/walk.
If you text, you're next. You only live once. #yolowalksafe pic.twitter.com/qtf832LiPu

— susankenedy (@susankenedy) September 17, 2014
"It is clear smart phones can make you do dumb things." @RogerBerliner #yolowalksafe pic.twitter.com/2P6Dyv8RS3 — susankenedy (@susankenedy) September 17, 2014
"400 pedestrians a year struck in moco. Half of them teenagers."@MoCoDistrict5 #yolowalksafe @MoCoCouncilMD pic.twitter.com/2BHyNiDpZp

— susankenedy (@susankenedy) September 17, 2014
PHOTOS | Susan Kenedy