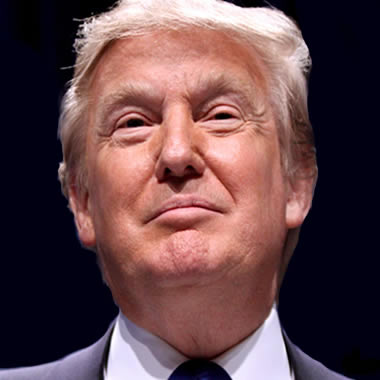 Local Leaders Condemn Trump's '—-hole' Comment
Following President Donald Trump's alleged comments towards people from Haiti, El Salvador, and African countries, local leaders condemned his remarks on social media.
The Washington Post reported Thursday that during a meeting in the Oval Office, Trump became angry after discussing protections for immigrants from several countries. The president, according to the Washington Post, asked lawmakers: "why are we having all these people from shithole countries come here?"
Trump took to Twitter to deny the allegations early Friday.
The language used by me at the DACA meeting was tough, but this was not the language used. What was really tough was the outlandish proposal made – a big setback for DACA!

— Donald J. Trump (@realDonaldTrump) January 12, 2018
Never said anything derogatory about Haitians other than Haiti is, obviously, a very poor and troubled country. Never said "take them out." Made up by Dems. I have a wonderful relationship with Haitians. Probably should record future meetings – unfortunately, no trust!

— Donald J. Trump (@realDonaldTrump) January 12, 2018
Local leaders, however, aren't buying it and also took to Twitter to voice their concerns.
I am disgusted. If you are too, take your anger and call your Republican Members of Congress. Tell them to pass the SECURE Act now. TPS recipients need us now more than ever. https://t.co/rvya1Sbtxy

— Chris Van Hollen (@ChrisVanHollen) January 11, 2018
It's almost a year under @POTUS and I can't say anything he says stuns me anymore. His comments do not represent America's values. This is very hurtful. https://t.co/JUV5hgGwO1

— Senator Ben Cardin (@SenatorCardin) January 12, 2018
The current president will one day leave office having almost irreparably weakening the office in which he holds. It will take leaders with strong moral compasses and compassion to restore the office's stature and our place as a positive global presence.

— Craig Zucker (@SenatorZucker) January 12, 2018
I applaud @andersoncooper for calling out Trump's racist comments about immigrants. Trump is ripping apart our country. Sadly he seems ignorant of the long term damage he is doing. https://t.co/xL4s92KQRr

— Rich Madaleno (@RichMadaleno) January 12, 2018
America is a nation of immigrants. President Trump's words are hateful and racist. The silence of the Republican lambs is disgraceful.

— Brian Frosh (@BrianFrosh) January 12, 2018
We thank you for your service and are proud to have residents from many countries who call Takoma Park home. https://t.co/2yAyJg6JV9

— City of Takoma Park (@TakomaParkMD) January 12, 2018