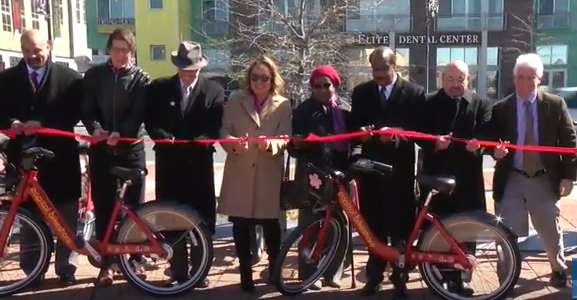 Local Leaders Cut the Ribbon for Satellite Capital Bikeshare Network in Wheaton (VIDEO)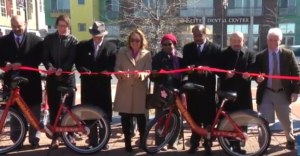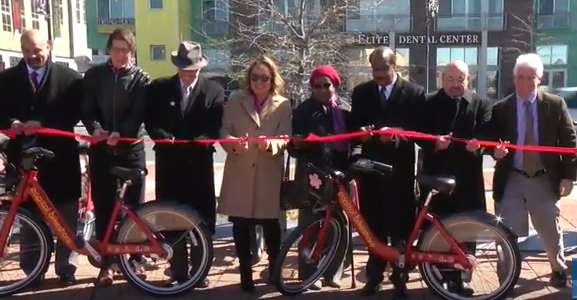 Montgomery County officials celebrated the satellite Capital Bikeshare network in Wheaton on Wednesday morning.
It may have been too cold for bike riding but local officials were beaming as they cut the ribbon at the bikeshare station adjacent to the Wheaton Metro station along Georgia Avenue.
"My heart skips a beat every time I see someone riding one of these. I love it," said Hans Riemer, who is the vice president of the Montgomery County Council. "Nothing makes me happier because it means what we are doing is working and the residents are using them and that's just a delight."
By the end of this year, Montgomery County Department of Transportation (DOT) Director Al Roshdieh said there will be 73 bikeshare stations across the county.
The Wheaton Bikeshare network is important to the revitalization of Wheaton, said County Executive Ike Leggett.
"Our new satellite Bikeshare network will support the Wheaton Central Business District and the surrounding residential, commercial and mixed use development that will soon include a new library and recreation center, as well as a new public office building," Leggett said.
"Wheaton is popping," said Montgomery County Council President Roger Berliner. "Look around, millennials are coming here. Lots of people are moving to Wheaton because it is a wonderful place to live."
The Wheaton Bikeshare system provides access to the Wheaton Metro, Ride On and Metrobus, as well as shopping, work, entertainment and other destinations in Wheaton. The locations of the five stations are Elkin Street and Amherst Avenue, Grandview and Blueridge avenues, Wheaton Metrorail station, Amherst Avenue and Pritchard Road and Windham Lane and Amherst Avenue. A sixth station will be added this summer.
You can join Bikeshare for an annual, daily or three-day fee and ride up for 30 minutes at a time. Those with certain income levels can join for free. Once you enroll in Bikeshare, you can pick up a key at any station with a key dispenser. All of the Wheaton stations are equipped with key dispensers. Alternatively, people can opt for a $2 single-trip fee, which does not require a key.
You can find out more about the Capital Bikeshare network in Montgomery County, here.
New @bikeshare station near Wheaton Metro. @mymcmedia pic.twitter.com/6RimoFgzlh

— Sonya Burke (@SonyaNBurke) March 22, 2017
By the end of this year, @MontgomeryCoMD will have 73 @bikeshare stations, said @MCDOTNow @AlRoshdieh at #Wheaton station today. pic.twitter.com/DYt7ENizN3

— Sonya Burke (@SonyaNBurke) March 22, 2017
.@CoUnTy_ExEc touts the @bikeshare network in @MontgomeryCoMD & #Wheaton. New station is off Georgia Avenue near Metro. #transportation pic.twitter.com/vHaLuMZeQj

— Sonya Burke (@SonyaNBurke) March 22, 2017
.@MoCoCouncilMD member @nancy_navarro praises @AlRoshdieh @bikeshare ribbon-cutting ceremony in #Wheaton today. pic.twitter.com/4nUHThNiaW

— Sonya Burke (@SonyaNBurke) March 22, 2017
.@RogerBerliner says #Wheaton is popping at bike share ribbon-cutting ceremony today. @mymcmedia pic.twitter.com/MKVQUD4jjb

— Sonya Burke (@SonyaNBurke) March 22, 2017