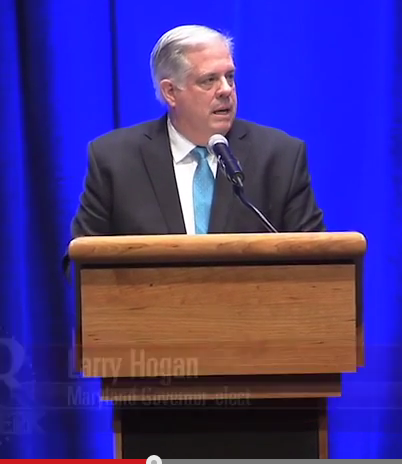 Local Leaders React to Governor Hogan's Cancer News (VIDEO)
Maryland Governor Larry Hogan is receiving a lot of support from residents and local leaders across the state and across party lines since he announced he has cancer.
Montgomery County Councilmember Craig Rice and Montgomery County Executive Isiah Leggett shared their reaction shortly after the news broke late Monday afternoon:
On Twitter and Facebook, other officials and residents shared their reaction.
"You don't get elected Governor of a great state like Maryland without your share of steel," said Councilmember Hans Riemer on his Facebook account. "We will all be pulling for Larry Hogan to come through."
On his Twitter account, County Council President George Leventhal said he was "very sorry to hear of Governor Larry Hogan's illness. Sending him good wishes and healthy thoughts."
U.S. Senator Barbara Mikulski sent a message to Hogan from her Twitter account: "Team Maryland is on your side for a complete and speedy recovery." Congressman Chris Van Hollen said his thoughts were with Governor Hogan and his family. "I stand with all Marylanders to wish him a full and speedy recovery," Van Hollen said on his Twitter account.
Former Governor Martin O'Malley said he and his wife are sending their prayers to Hogan and his family.
Governor Hogan said he was appreciative of all the support.
"Thank you to the countless thousands who have wished me well as I begin this journey to fight cancer," Hogan said on his Twitter account.
My thoughts are with @larryhogan & his family as he fights this disease. I stand with all Marylanders to wish him a full & speedy recovery

— Chris Van Hollen (@ChrisVanHollen) June 22, 2015
Keeping Maryland Governor @LarryHogan in our thoughts and prayers.

— Pat Sajak (@patsajak) June 22, 2015
.@LarryHogan Katie and I are sending our thoughts & prayers to you and your family, and wishing you the best in overcoming this challenge.

— Martin O'Malley (@GovernorOMalley) June 22, 2015
Pulling for you, @LarryHogan. Team MD is on your side for a complete and speedy recovery. — Barbara Mikulski (@SenatorBarb) June 22, 2015
Very sorry to hear of Governor @LarryHogan's illness. Sending him good wishes and healthy thoughts.

— George Leventhal (@georgeleventhal) June 22, 2015