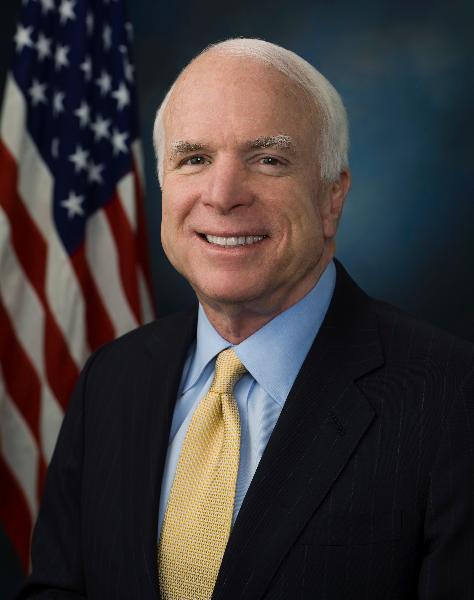 Local Leaders Send Their Thoughts and Prayers to Sen. John McCain
Local leaders are sending their thoughts and prayers to Sen. John McCain, Republican, after he was diagnosed with a brain tumor.
"You have overcome tough battles before," said Senator Chris Van Hollen on Twitter.
"Cancer just picked the wrong guy to mess with," said Maryland Governor Larry Hogan in a Facebook post.
"Wishing rapid recovery and return to vital good health," said U.S. Rep. Jamie Raskin on his Twitter account.
On Twitter, Senator Ben Cardin described McCain as his friend as he wished him a fast recovery.
Senator McCain's office released the following statement about the good wishes:
"Senator McCain appreciates the outpouring of support he has received over the last few days. He is in good spirits as he continues to recover at home with his family in Arizona. He is grateful to the doctors and staff at Mayo Clinic for their outstanding care, and is confident that any future treatment will be effective. Further consultations with Senator McCain's Mayo Clinic care team will indicate when he will return to the United States Senate."
On Wednesday, McCain's office also posted the following statement from the Mayo Clinic about his condition:
"On Friday, July 14, Sen. John McCain underwent a procedure to remove a blood clot from above his left eye at Mayo Clinic Hospital in Phoenix. Subsequent tissue pathology revealed that a primary brain tumor known as a glioblastoma was associated with the blood clot.
"Scanning done since the procedure (a minimally invasive craniotomy with an eyebrow incision) shows that the tissue of concern was completely resected by imaging criteria.
"The Senator and his family are reviewing further treatment options with his Mayo Clinic care team. Treatment options may include a combination of chemotherapy and radiation.
"The Senator's doctors say he is recovering from his surgery 'amazingly well' and his underlying health is excellent."
Cancer just picked the wrong guy to mess with – we send heartfelt thoughts & prayers to my friend @SenJohnMcCain: https://t.co/7YHKUGndJr

— Larry Hogan (@LarryHogan) July 20, 2017
Wishing rapid recovery and return to vital good health for Senator John McCain, a real constitutional patriot.

— Rep. Jamie Raskin (@RepRaskin) July 20, 2017
Still thinking of my friend and colleague @SenJohnMcCain, wishing him a full and fast recovery. Look forward to having you back, John.

— Senator Ben Cardin (@SenatorCardin) July 19, 2017
.@SenJohnMcCain, our family's thoughts and prayers are with you and your family. You have overcome tough battles before!

— Chris Van Hollen (@ChrisVanHollen) July 20, 2017