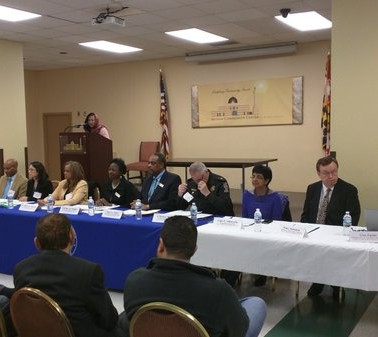 Local Muslim-Americans and County Officials Work to Combat Discrimination (PHOTOS)
The Montgomery County Office of Human Rights Committee on Hate and Violence held a meeting on Wednesday night at the Muslim Community Center in Silver Spring. The event was a follow up session to a meeting that took place on December 10, 2015. 
The top issues discussed were school safety, police engagement and assistance programs offered by the County.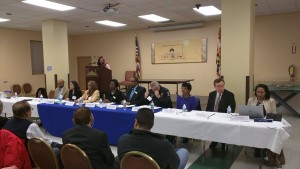 Officials from Montgomery County Public Schools (MCPS), the Montgomery County Police Department (MCPD), the Department of Health and Human Services and the Office of Human Rights were present to listen in on concerns expressed by the County's Muslim community. 
James Stowe is the Director of the Montgomery County Office of Human Rights.
"The promise was that once we in fact heard what we heard that night we would come back with the appropriate persons to speak to those concerns… We believe they will have a chance to hear first hand from those who can resolve some of those issues," Stowe said.
Safety in schools was one of the main topics of concern discussed at the meeting. MCPS representatives touched on what the school system is doing to keep students safe. Tim Warner is the Chief Engagement and Partnership Officer for MCPS.
"We've had policies in place for years around bullying. Our goal at MCPS is to make sure that there's a safe environment in school conducive to learning for every student. As a matter of equity we want to make sure that every student who may come with some special sensitivity around religion, race or culture," Warner said.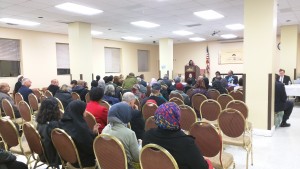 Chief Tom Manger of the Montgomery County Police Department says that his department works on outreach to all communities in the County. He also stressed that trust needs to occur between the police force and the Muslim community.
Montgomery County is a tremendously diverse community. The outreach to the Muslim community that we do [is] necessary and important work because often times the Muslim community is targeted by other folks for hate crimes or hate incidents," said Manger. "We want to make sure that we have a good and trusting relationship with the Muslim community here in Montgomery County because if something does happen we want everybody and anybody in this county to feel confident enough that they can go to the police and get the help they need."
Some members of the audience stressed that more coordination is needed to combat discrimination. Sahar Khamis is an Associate Professor at the University of Maryland and a resident of Silver Spring.
"All the different departments [including] the police, Department of Health and Human Services, the Office of Human Rights and the Committee on Hate and Violence. Everybody has to coordinate their efforts in order to combat all forms of hatred and violence not just against the Muslim community but against every minority and every community of faith, culture, tradition [and] ethnic background," Khamis said.
Committee on Hate and Violence holds meeting to discuss the concerns of Muslims in Montgomery County. @mymcmedia pic.twitter.com/pCkuh6UaVd

— Willie James Inman (@imwilljames) February 18, 2016
Deputy Superintendent @Statham_Kim of @MCPS says safety of students is a top priority at event addressing concerns of #Muslims @mymcmedia

— Willie James Inman (@imwilljames) February 18, 2016
Chief Thomas Manger says its our responsibility to make sure we get to know the members of every community. pic.twitter.com/ulnN4GEfK7

— Willie James Inman (@imwilljames) February 18, 2016
Chief Manger says @mcpnews officers receive training to interact with people from different backgrounds during academy training. @mymcmedia

— Willie James Inman (@imwilljames) February 18, 2016
Dir. Ahluwaila says @MoCoDHHS continues to work on outreach with the #Muslim community but more needs to be done. pic.twitter.com/UL7cGTZPlh

— Willie James Inman (@imwilljames) February 18, 2016
Related: