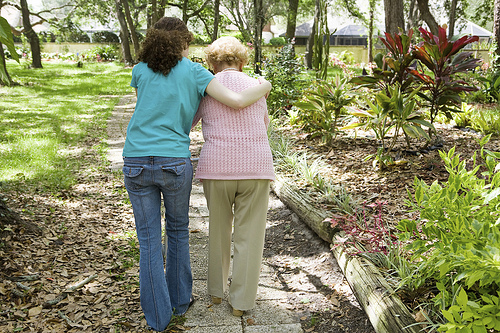 Long-Term Care from A to Z – Part 3
We're on the subject of caregivers. How many of you can honestly answer the question: What is involved in being a caregiver? Sounds like an easy question to answer, right? Just take care of someone. Well, there is so much more involved. In fact, in a 2011 study by Genworth, 73 percent of people said they would not know what to do if a family member called and said they needed care.  There is an urgent and pervasive need for THE CONVERSATION. Ironically, the most important part about talking with your loved ones is LISTENING.
OK, let's talk about where the rubber meets the road.
It has been reported that nearly 4 out of 10 Americans are currently caring for someone with health issues. What is the impact of being a caregiver?    The caregivers themselves suffer from significant levels of stress, depression, sleep deprivation and neglect of their own health. Proper nutrition and exercise, on the part of the caregiver, are forgotten in the constant struggle of providing care.  With the increasing presence of Alzheimer's disease and the constant need for care, the physical and emotional burdens are amplified. And we haven't even addressed the financial drain.
If you're thinking that the federal Family and Medical Leave Act provides a cushion by requiring employers to grant unpaid leave for 12 weeks per year, this annual limit is a "drop in the bucket" when dealing with chronic needs of an elderly, frail or incapacitated person. And did you notice that's unpaid leave?
Are there any other concerns that must be considered by potential caregivers?  You bet there are! It may come as a surprise, but a caregiver really needs to understand their role. Many times a caregiver does not even identify themselves as a "caregiver." They are simply doing what they think they're supposed to do to help a family member.  The very scary aspect of this is that a caregiver has a legal obligation to provide at least a minimal level of care.  As was pointed out in a recent court case in which a caregiver (a daughter) was found guilty of neglect, if one takes on the role and then fails to provide what a judge may later determine is adequate care to the patient, even with the best of intentions, the caregiver may be subject to criminal prosecution. Lesson here: if you can't do it, and do it right and fully, you have to say "no" up front.
Don't make the mistake of thinking that being a caregiver is not that hard. It's extremely difficult, often thankless, frustrating, physically demanding and emotionally draining.
If there is such a thing as an "average" caregiver, what does he or she look like?  The caregiver is typically a woman. It's usually the wife or eldest daughter. Women live longer than men. They take care of their parents, and then their husbands. The real problem comes when there is no daughter or wife to take care of the caregiver. 80 percenbt of men die married. 80 percent of women die single. Sobering statistic, especially for the women reading this.
Still think you're prepared to be a caregiver? Maybe you are. But if you're not sure, consider covering the need with LTC insurance.