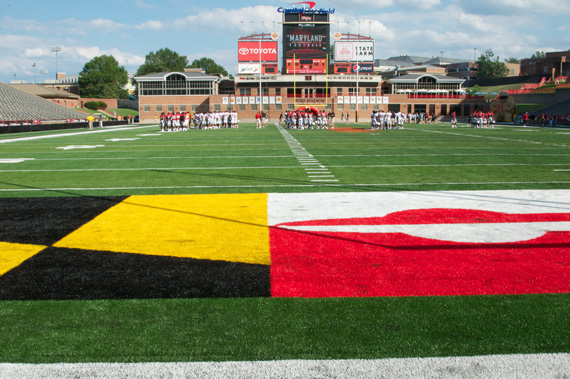 Love Maryland. Leave the ACC. Go Terps!
This storm has been brewing for a long time. Go Terps, now takes on a new meaning.
As I write this blog the discussions swirling around the University of Maryland's Board of Regents pending decision to join the Big Ten (B10) rivals a summer thunderstorm. Lot's of gathering gray clouds, winds, lightening and yes raindrop tears. In the end the storm passes and we all look for the rainbow.
This weekend I have read my share of blogs, newspaper articles, read the quotes by students, alumni, friends and a former coach and got my wife's opinion.
However even after all that my mind was clearly made up over two years ago going back to a time when I listened to the logical facts as laid out by a very young, recent Duke MBA graduate who was in a position to know and understand the consequences of Maryland's eventual alignment to the B10.
Everything that Dukie told me while I sat in that beach chair in Duck, NC has come forward into the light. It made sense then, it makes even more sense now. Maryland has been a take over target for the B10.
Why?
Simply put it is Maryland's relative location in the Mid-Atlantic – UMD lives between the #8 & #9 TV markets in the nation. It has large alumni network those whom live, work and play spans the Eastern Seaboard along the path that Hurricane Sandy tracked. It's big, big carrot and if successful it gives the B10 perpetual access to all television markets in between. Add in Rutgers in the #1 NYC TV market and it is, Checkmate. Game over, The B10 is the big boy on the block.
Long before the financial struggles at UMD came into focus the $$$ that the B10 could provide was outrageously tempting. Long before Maryland had to cut out 7 collegiate sports because of austerity measures and bad decisions by former AD Debbie Yow, it made sense. Maryland owns the Mid-Atlantic area that surrounds the most powerful city in the world. No one else comes close. Not Georgetown in Basketball or VA Tech in Football. No one matches the pull and numbers with UMD here.
So, the decision to make this move was sealed this summer when Notre Dame became a member of the ACC in all things athletic but Football.
Notre Dame holds a "bowl eligible – Get out of Jail Free card" that trumps any other ACC's member's football record when determining which post season bowl the Irish choose to take their fans to. Maryland – an original member of the ACC – did not like this – they wanted the Irish to take on full membership and get in line.
Instead the thinking heads in Greensboro NC (ACC HQ) sold this 'arranged marriage' with the Irish along the lines of scheduling 5 football games against ACC opponents. Guess whom they played this year?
They have played 4 members already – Boston College, Miami, Wake Forest and soon to be ACC – Pittsburgh. No big Irish stretch there, add one more – and drop Perdue.
Add in Navy, who they play every year, and they are throwing sand in our own sand box.
Add in that fact that they keep all the $$$ from their own TV deal and partake in ACC share for the other sports and what do you have – a future league that looks like the Big East. Not a big stretch for the Irish – but all other ACC members take a back seat when it comes to football.
So folks – to take a line out of the "Godfather" – … "its just business"! Be rational – and stick to the facts. It's time to say goodbye.
Make the move, go for the Big Ten offer – it builds in longer-term financial stability to a University that is bleeding red for the foreseeable future.
According to my Dukie friend The SEC will come courting the southern half of the ACC league – and when Florida State, Miami or Clemson bolts you can forever forget about ACC relevance or "rivalries" and future ESPN raises.
Oh and one last thing.
I was so looking forward to adding Syracuse and Pittsburgh to the Maryland schedule – then we could start to make changes within the ACC that might place championship tournament structures within reach of the Northeast (read that as in ACC Football and Basketball championships).
Maryland has always been the odd man out when considering rivalries and other things Southern – within the ACC. We are viewed as a Northern school.
I don't kid myself – the view and welcoming from the B10 will be no different – but we are well versed having traveled that "tobacco" road before.
Go Terps!