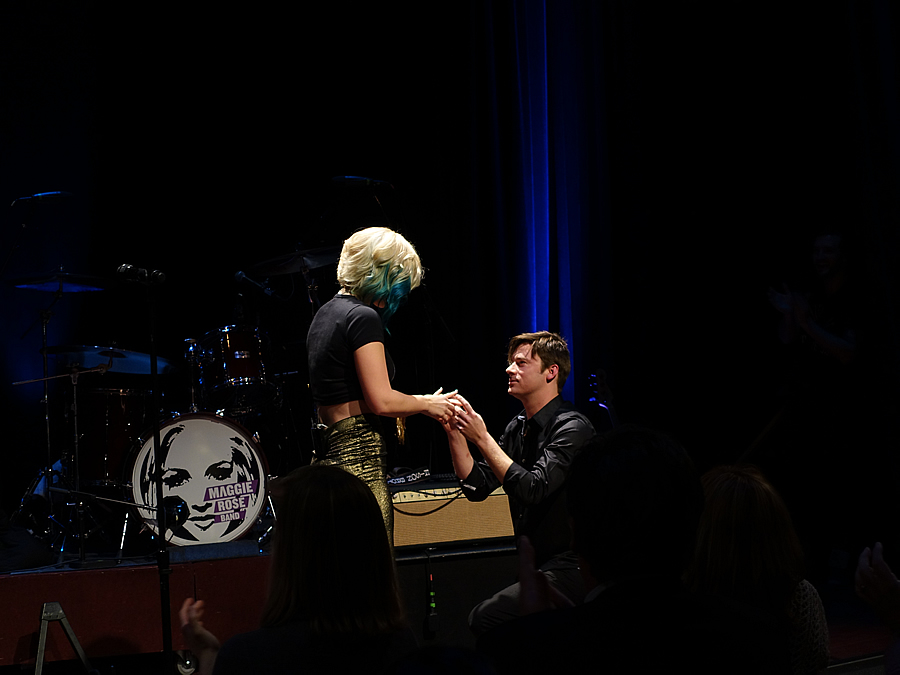 Maggie Rose Concert Ends with Proposal at Bethesda Blues and Jazz (PHOTOS & VIDEOS)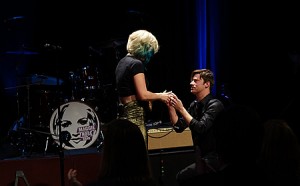 UPDATED Talk about a love song!
The Maggie Rose concert ended with a proposal Saturday night at the Bethesda Blues and Jazz Club.
Maggie Rose was about to perform "River Road" with her bass player last night in front of a sold out crowd, when her boyfriend Austin Marshall unexpectedly entered the stage, rose in hand, and sang the song with her instead.
After the song ended, Marshall bent down on one knee and proposed to Maggie as her parents, grandparents, friends and fans watched from their seats in the audience.
On her Facebook page today, Maggie shared her reaction. "I said yes, of course," she said. "I couldn't have imagined a more beautiful moment and sharing it with everyone was such a blessing. My whole band was in on it. They made a customized set list just for me so I wouldn't be tipped off. My sisters and parents were there ready to capture the moment and I was overwhelmed with love. Austin knows I live on stage and carefully chose a time and place that we'll remember forever."
Her mother captured their performance and the proposal in a You Tube video that was posted online today:
Country singer Maggie Rose was born Margaret Durante and grew up in Potomac, Maryland. You can find out more about her and her music here.
The Morrison Brothers, a band that opened for Maggie Rose, also posted this video of the proposal and the evening's encore performance.
Whoah!! @iammaggierose said YES! @ Bethesda Blues & Jazz Supper Club https://t.co/njl5CbHjIw

— Austin Marshall (@A_Marsh2) March 22, 2015
.@GetMikeWalsh @IAmMaggieRose @mymcmedia FANTASTIC! Another proposal on our stage!

— Bethesda Blues&Jazz (@BethesdaBlues) March 22, 2015