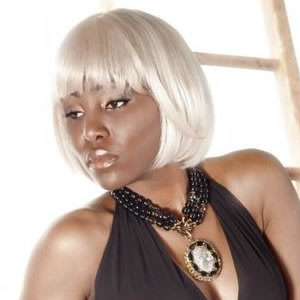 Major Attitude Without Arrogance
Behind every strong personality lies a remarkable beginning and just when you feel like giving up never forget why you held on for so long in the first place." – Lynda Miriga
I was 19-years-old when I signed my 5-year contract with a British agent Nicholas Burnett for commercial and fashion
modeling representation. My life prior to international modeling was caught between a demanding schedule as a competitive swimmer for Kenya's National Team at 16-years-old and high school athletics. My referral, a photographer with 
Bareface Models 
in Dubai recognized me while on travel during a vacation trip in Arusha, Tanzania on my 18th birthday. I was introduced to top contacts from all over the world including Wilhelmina, Elite Model Management, Ford etc. through an international model and talent conference while in Arusha. However, I constantly fell short of the industries requirements and my image was nothing but a pretty face. Modeling is all about demographics; taller is better for the simple fact taller models display clothes better than shorter ones. Usually, 5ft8in is about the minimum height requirement, but I only stand 5ft6in. with weight being another touchy subject due to the international standard requirements. In general, models are required to be quite slim in proportion to their height and weight, usually between 105lbs and 125lbs. In addition, no matter your race or color, to fall under that perfect image bracket, your skin must be smooth, dry, free of flaws and taut, therefore the slightest imperfection could easily shutter a starving dream and that is the harsh reality.
Models are considered glamorous people who lead a glamorous life, but when you look at their careers closely, you will notice that not everything is about glamour or stardom. Personality matters. Truth is, when you start telling people that you want to become a model, you will come across some resistance or hear a lot of negative talk like: You are too short! It's a tough world filled with negative influence! You are too young! And even though people may have good intentions in their hearts when they say these things, you have to realize that attitude is the number one quality a model must have. Attitude does not mean being harsh, wicked, mean or stubborn. Attitude means having a strong sense of your own abilities and feeling entitled to your position as a model within the modeling world. Attitude is very difficult to describe, but you will know it when you see it. Attitude means that you can keep your head held high and hold strong against people who try to tear you down, because in this industry you will always find people trying to tear you down.
At the beginning of your modeling career, you may find yourself scrimping and saving in order to get your career off the ground. I began my career spending nights at airport terminals (once you start actively travelling, you barely see the comfort of your own bed for a while), waiting on my next project and springing from one social acquaintance to another in search for food and shelter for the night and or prior to my next assignment. Is it a major security bridge? Definitely! That is why it is important to be fully aware of your environment and social network. Independence is highly important in this industry as it not only teaches you how to save in preparation for your next assignment, but it also introduces you to a world of gambling, knowing well that rejection is part of every model's stock and trade which vary from simple demographics, to lifestyle challenges. Behind every strong personality lies a remarkable beginning; just when you feel like giving up never forget why you held on for so long in the first place.
Most importantly, modeling is an investment. From the minute you make that major decision to when you actually start living the life of a professional model. The smallest details that matters the most is what costs a fortune in the modeling industry; having a professional portfolio is just as important as making the time to go to an audition and when it comes to meeting a photographer to shoot your portfolio, there are two unshakable rules that all models must follow. First rule, bring your own clothes. In fact, bring as many clothes as you can carry in the back of your car. Do not count on the photographer for clothes to wear. The reason you want to bring a lot of clothes is that the photographer will want you to wear something more generic, something that will not become quickly dated. Many models find that when they get busy, they have difficulty updating their portfolio, thus pictures in their portfolio often display past, outdated fashions. Second rule, make sure that the majority of those clothes are fairly generic and "timeless." The photographer will also establish a few basic shots such as a head shot, glamour head shot, a basic body shot, and other conventional angles. Do not be alarmed if these angles appear to be fairly static and boring; the reason for this is just to show your basic body type. Remember, Good models are made, Not Created!