UPDATED: Teen Arrested With BB Gun Near Kingsview Middle School Property
UPDATED, June 4, 6:30 a.m. – A teen was arrested for reckless endangerment after someone reported seeing a person with a gun near Kingsview Middle School in Germantown Wednesday.
According to a news release,  a witness reported seeing a person with a gun and then hearing a "pop" in the area of Kingsview Road at Duhart Road. The witness then reported seeing that person cross Kingsview Middle School property.
Several officers responded to the area at about 2:30 p.m. A juvenile matching the description was stopped at the 7-11 at 18701 Liberty Mill Road. A semi-automatic handgun replica BB gun was found in his possession, police said. The 15-year-old male juvenile was placed under arrest. He is being charged with reckless endangerment. No injuries related to this incident have been reported.
Anyone with any information regarding this incident is asked to contact the Montgomery County Police non-emergency dispatch at 301.279.8000. Callers may remain anonymous. Police initially reported the person with the gun was an adult.
ORIGINAL – Students at Kinsgview Middle School in Germantown had a delayed dismissal from school Wednesday afternoon after police arrested a man for using a BB gun near school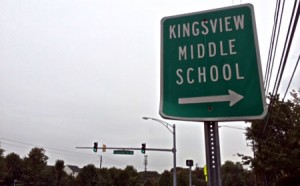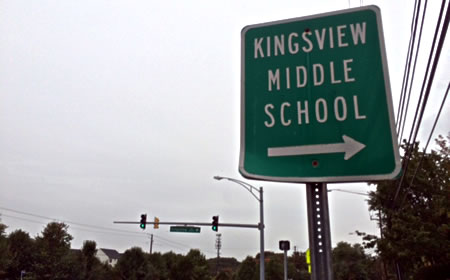 property.
According to police, a school official called police after hearing a gunshot about 2:30 p.m. Police arrived on scene and arrested a man wearing a Captain America T-shirt who was walking on school grounds holding a BB gun. The man was arrested at the 7-11 store nearby.
No one was injured, according to police. It is unclear which direction he fired the shot.
Students were released from school at 3 p.m.
Dismissal is delayed to police activity in the neighborhood. Thanks for your understanding!

— Jimmy D'Andrea (@KingsviewPrin) June 3, 2015