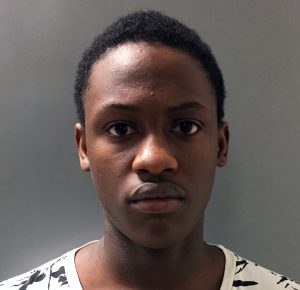 UPDATED: Police Arrest and Charge Two Suspects in Gaithersburg Homicide
UPDATE 11.18.16 Montgomery County police have arrested and charged two suspects in connection with the homicide of Richard Michael Lone III.
Police have arrested and charged Mohammed Sirleaf, age 20, of Towne Crest Drive in Gaithersburg, for the murder of Lone. Timario Makaveli Gregg, age 19, of Castle Boulevard in Silver Spring, was also arrested and charged with possession of a firearm by a minor.
According to police, a witness told detectives that he recognized one of the suspects as a former Magruder High School student, but could not recall the suspect's name. Detectives spoke with the School Resource Officer (SRO) assigned to Magruder High School, who confirmed that Sirleaf was a former student. The witness was later shown photographs of  multiple individuals and identified Sirleaf from the photos as the suspect involved in the homicide. The witness also told police that Sirleaf had been to the home of Lone on prior occasions to smoke marijuana.
Police also spoke with additional people who had knowledge of the homicide and were able to determine that Gregg may have been present in the home with Sirleaf at the time of the shooting. Police said that on Nov. 3rd, Gregg posted a photo on one of his social media pages that appear to show him with a handgun tucked inside his waistband.
On Nov. 14th police obtained an arrest warrant for Sirleaf and charged him with first-degree murder, armed robbery, conspiracy to commit first-degree murder, and conspiracy to commit first-degree assault.  Sirleaf was arrested on Nov. 16th  and he is currently being held without bond.
Police also obtained an arrest warrant on Nov. 14th for Gregg, charging him with possession of a firearm by a minor. Gregg was arrested on Nov. 16th when he was found in a stolen vehicle in Germantown. Gregg  is being held without bond.
For more information, visit the Montgomery County Police Department's website.
ORIGINAL POST 10.25.16 Montgomery County police officers are investigating a murder that occurred last night in Gaithersburg.
Police said the preliminary investigation indicates that two suspects, dressed in dark clothing and with their faces concealed, entered the home through an unlocked rear door.  There were multiple people in the home at the time, police said.
During the apparent home invasion, police said one of the suspects shot 23-year-old Richard Michael Lone, III, who died from his injuries at the scene.
According to police, the other people were not injured and both suspects then fled from the home.
Police said they do not believe this is a random act.
If you know anything about this case, contact the Montgomery County Police Department's Major Crime Division at 240.773.5070.
For those who wish to remain anonymous, Crime Solvers of Montgomery County is offering a reward of up to $10,000 for any information that leads to the arrest of the suspect(s). Tipsters can call Crime Solvers of Montgomery County toll-free at 1.866.411.TIPS (8477).
Update: Detectives Continue to Investigate Gaithersburg Homicidehttps://t.co/R1tu9GMSm0

— Montgomery Co Police (@mcpnews) October 25, 2016
Detectives Investigate Gaithersburg Homicidehttps://t.co/3ozMdFIp3a

— Montgomery Co Police (@mcpnews) October 25, 2016
Dets investigate death of adult male resident after male subj entered home in the 7900 blk of Muncaster Mill Rd and shot victim. PIO enroute

— Montgomery Co Police (@mcpnews) October 25, 2016