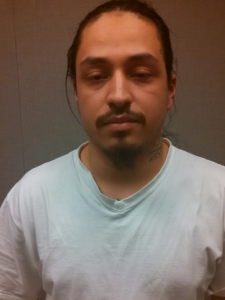 Man Arrested in Silver Spring Homicide
UPDATED, March 18, 11 a.m.- Montgomery County Police made an arrest in the shooting death of Jonathan Lopez in Silver Spring Monday.
Police arrested Erick Ramirez, 24, of the 8300 block of Piney Branch Road.
According to police, on Monday at about 8:25 p.m., police responded for the report of a shooting near Piney Branch Road and Dale Drive.  Lopez, of Brentwood, was conscious but  collapsed on the sidewalk, suffering from an apparent gunshot wound, police reported. He was transported to a trauma center in Washington, D.C. for treatment but died in the early morning on March 17.
Investigation by homicide detectives revealed that Lopez was in a relationship with a woman who had a child fathered by Ramirez.  On Monday, the woman and Lopez went to pick up the child from Ramirez at his Piney Branch home. Lopez waited outside in the car, according to police.  While the woman was inside the home, Lopez and Ramirez allegedly exchanged text messages.  After the woman and Lopez had picked up the child and had left the immediate area in a vehicle, the two men continued to text one another for a short time, according to police.  Shortly after Lopez received one of these text messages from Ramirez, Lopez returned to the area where Ramirez lived.  Ramirez confronted Lopez, allegedly shot him, and ran, police said.  After being shot, Lopez ran a short distance before collapsing on the sidewalk, according to police.
Ramirez is charged with first-degree murder. He was arrested Tuesday night in the 4400 block of Connecticut Avenue, NW in Washington, D.C.  Ramirez remains in custody in Washington, D.C. awaiting extradition.  The timeframe for the extradition process is not known.  At the time the process is completed, Ramirez will be transported to Montgomery County for arraignment and bond review.
ORIGINAL – 
Police are looking for the person they say shot and killed a man in Silver Spring Monday night.
According to a news release, at about 8:25 p.m., officers responded for the report of a shooting near Piney Branch Road and Dale Drive. That's where they found Jonathan Lopez, 24, of Brentwood, conscious and suffering from at least one apparent gunshot wound.
He was taken to a local trauma center for treatment where he died early Tuesday morning, police said.
Preliminary investigation indicates that Lopez was walking along Piney Branch Road when he was approached by a man, according to police. During their encounter, the man shot Lopez and ran.
The man is described as a light-skin male wearing dark clothing.
Detectives are urging anyone who may have information regarding this homicide to contact the Major Crimes Division at 240.773.5070. For those who wish to remain anonymous, Crime Solvers is offering a reward of up to $10,000 for any information that leads to the arrest of the suspect. Call Crime Solvers of Montgomery County toll-free at 1.866.411.TIPS (8477).