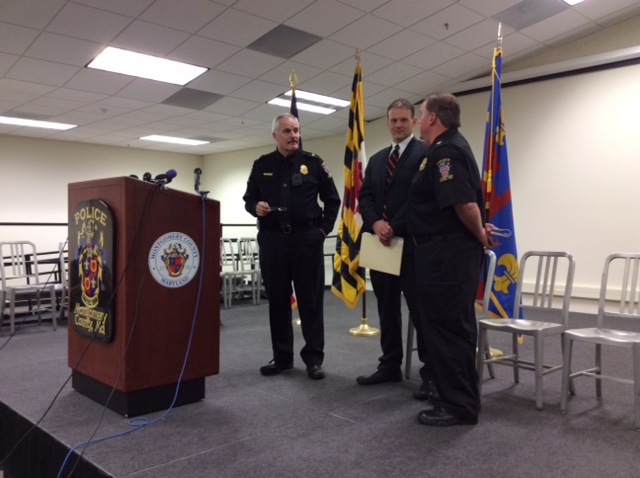 Manger Announces Arrests of Three Suspects in Double Homicide Case (VIDEO)
At a Saturday night news conference, Montgomery County Police Chief Tom Manger announced that three people have been arrested for the homicides of 17-year-old Shadi Najjar and 18-year-old Artem Ziberov.
According to police, the Germantown teens were shot to death as they sat in a parked car in the 8200 block of Gallery Court in Montgomery Village on June 5, the night before they were scheduled to graduate from Northwest High School.
Police said they found 30 shell casings at the scene of the double homicide that night.
On June 17, Manger said police arrested and charged 24-year-old Edgar Garcia Gaona of Gaithersburg, 19-year-old Roger Garcia of Germantown and 25-year-old Jose Ovilson Canales-Yanez of Gaithersburg in this case. According to Manger, all three suspects are charged with two counts of first degree murder and two counts of conspiracy to commit first degree murder.
Photos L-R: Edgar Garcia-Gaona, age 24; Roger Garcia, age 19, Jose Ovilson Canales-Yanez, age 25. Arrested today for 6/5 double homicide. pic.twitter.com/3LX5czyOPx

— Montgomery Co Police (@mcpnews) June 18, 2017
Watch the chief's news conference, below:
Manger said the motive for the shooting appears to be retaliation for an earlier robbery. He noted that tips from the community helped investigators working the case.
"Although detectives have made these three arrests, this by no means should be interpreted that the investigation has concluded," said Manger. "These most recent developments are the result of the community taking an active role in this investigation. It is believed that, considering the progress made over the past 36 hours, there are additional sources of information who have yet to come forward."
Anyone with information is encouraged to call the Major Crimes Division at 240.773.5070. Those wishing to remain anonymous, may call Crime Solvers of Montgomery County, which is offering a reward of up to $10,000 for any information that leads to additional arrests and indictments. Tipsters can call Crime Solvers of Montgomery County toll-free at 1.866.411.TIPS (8477).
Police said the three suspects are being held without bond. According to police, the suspects are scheduled to be in court for bail review hearings on Monday afternoon.
MCPD Chief Manger announced arrests of 3 suspects for 6/5 double homicide in Montgomery Village. See press release: https://t.co/67IitIzT60

— Montgomery Co Police (@mcpnews) June 18, 2017
Police Chief Tom Manger with new details about double homicide investigation following arrests. pic.twitter.com/g9e8JTDZH4

— Sonya Burke (@SonyaNBurke) June 18, 2017
Police Chief Tom Manger announces three arrests in June 5th double homicide in Montgomery Village. @mymcmedia pic.twitter.com/55uPIZ6GrF

— Sonya Burke (@SonyaNBurke) June 18, 2017
Police Chief Tom Manger said informant helped break double homicide case. @mymcmedia pic.twitter.com/odAp9rf1ls

— Sonya Burke (@SonyaNBurke) June 18, 2017
Police Chief Manger just arrived for news briefing about arrest in double homicide case. @mymcmedia pic.twitter.com/uZgck3rqrx

— Sonya Burke (@SonyaNBurke) June 18, 2017
At police headquarters where Chief Tom Manger is expected to announce an arrest in double homicide case. @mymcmedia pic.twitter.com/NwpHA3NRbm

— Sonya Burke (@SonyaNBurke) June 18, 2017