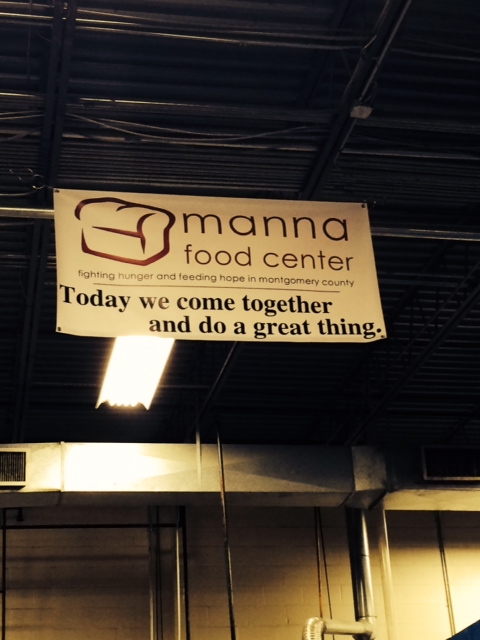 Manna Food Center Helps Families Prepare for Thanksgiving
The days leading up to Thanksgiving are traditionally busy for the staff and volunteers at Manna Food Center and this year is no exception.
"We are on track to help well over 4,000 families at this time of year," said Jackie DeCarlo, the executive director of Manna Food Center.
DeCarlo said her organization is seeing twice as many people this month compared to last month. "People we don't regularly see come at Thanksgiving," she said.
On the Friday before Thanksgiving, she said her nonprofit organization had appointments to help 323 families and she expects the number of families to climb each day of Thanksgiving week as they did the year before.
"We feel like last year was a record for us and the pace seems just as high this year," DeCarlo said, noting that in this post-recession climate there are lots of folks who still need help.
She also is also seeing a bigger need for help in the Germantown area of Montgomery County, not only now but year-round. On Thursdays, Manna Food Center works out of the Salvation Army Center on Aircraft Drive in Germantown and DeCarlo said recent Census numbers indicate there are more pockets of poverty in this region than Manna is currently reaching. "We want to bridge that gap," she said.
Her organization serves residents across Montgomery County.
On Friday, DeCarlo was headed to the Eastern Montgomery Regional Services Center on Briggs Chaney Road where 93 people had appointments for assistance. At the warehouse on Friday, staff was helping another 172 people on Gaither Road while the Choice Pantry at Colesville Presbyterian Church was serving another 58 families in need.
As the need grows, efficiency matters.
According to Decarlo, Manna's staffers have made some changes to streamline assistance at the warehouse location on Gaither Road. She said lines for food drop-offs are in one parking lot and clients are served in another to be most efficient. She also said there will be more volunteers at satellite drop off sites this year.
Manna Food Center has also unveiled a new website to better serve the community: you can find information in three different queues.  They are labeled "Get Help," "Give Help," and "End Hunger."
So what does the organization need most? "We need money," said DeCarlo. She said having dollars in the bank provides flexibility in case her staff needs to purchase fresh
produce at the last minute, etc.
You can donate, here.
All smiles serving in the rain @SalvationArmyUS. Thanksgiving requests have doubled in Germantown. pic.twitter.com/ISJuV9zp7O

— Manna Food Center (@MannaFoodCenter) November 19, 2015
#FunFriday event at Rio Washingtonian @WTCRIO #holiday tree lighting! #Donations to Manna! https://t.co/ThvzheYn9d pic.twitter.com/StadiZ1Hcz — Manna Food Center (@MannaFoodCenter) November 20, 2015