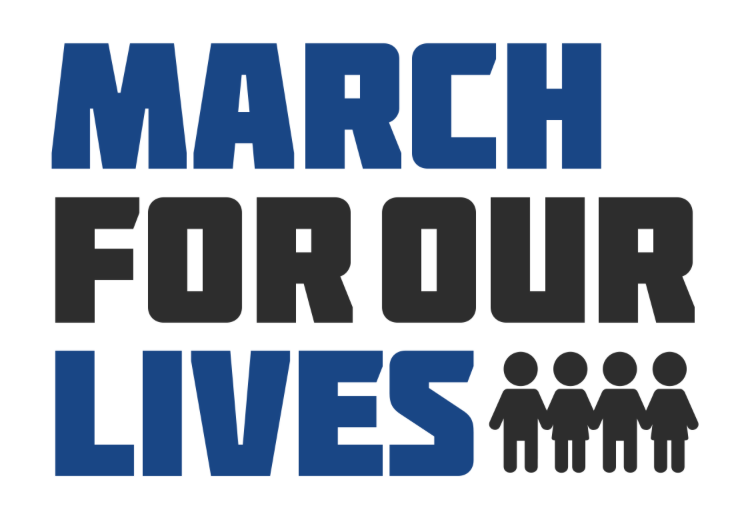 The March for Our Lives Rally is Saturday, March 24
Here's What You Need to Know
The March for Our Lives Rally to address gun violence in schools is expected to draw hundreds of thousands to downtown Washington Saturday, March 24. The rally will include a diverse program of student speakers, musical performances, guest speakers and video tributes from noon until 3 pm. According to the website MarchforOurLives.com, the rally will take place on Pennsylvania Avenue, between 3rd and 12th Street in Northwest D.C. (See map below)
Pedestrian entrances are located at Pennsylvania Avenue and 12th Street, NW; Constitution Avenue and 7th Street, NW; and Indiana Avenue and 7th Street, NW. There will be no access to the rally from the East.
Items not allowed inside the rally area include aerosols, ammunition, animals other than service/guide animals, backpacks and bags exceeding size restrictions (18" by 13" by 7"), bicycles, balloons, coolers, drones and other unmanned aircraft systems, explosives, firearms, glass containers, thermal containers, metal containers, laser pointers, mace or pepper spray, packages, selfie sticks, signs exceeding the restrictions (20″ x 30″ x 1/4″), structures, supports for signs and placards, toy guns, explosives, and weapons.

Make a Plan
D.C. officials encourage rally participants to make a plan, stay informed and if you see something, say something. Before heading downtown to the rally participants should make a plan. Here are suggestions from D.C. officials:
Be ready to walk long distances and bring water with you to keep hydrated.
Be prepared to be on your feet for several hours.
Charge your cell phone and consider bringing a portable charger. Cell phone coverage may be spotty due to high demand, use text messages to send critical messages.
If you are traveling with a group, select a prearranged meeting spot, like your hotel, an easily recognizable landmark, or a bus stop, in case your group is separated.
Locate bathrooms, first aid tents and a place to get warm in the event of cold weather.
Call 911 in an emergency and 311 for reunification services.
If you are on medication, bring enough medicine for the duration of your visit to DC. You will likely be away from your lodging accommodations for many hours and should carry necessary medications (Talk with your doctors about how to access medical records when away from home in case an emergency occurs and records are needed).
D.C. officials ask participants to sign up for text messages on safety, weather, traffic, transit and more. Text "MARCH24" to 888-777 to sign up. Participants should also follow D.C. Homeland Security and Emergency Management Agency on Twitter @DC_HSEMA. The government also encourages participants to connect with event organizers through social media:
March For Our Lives social media
D.C. officials also ask participants to be aware of their surroundings and report suspicious activity.
To report immediate threats or emergencies, call 911
To report suspicious activity or behavior, call (202) 727-9099
Make a report using iWATCH (What is iWATCH?
Street Closures
The Metropolitan Police Department began closing streets Thursday, March 22 for the rally. Most streets will be closed Saturday from 3 a.m. to 6 p.m. Visit Street Closures web page for a complete list. The Federal Triangle Metro station and the 441 entrance to Judiciary Square Metro Station will be closed for the rally.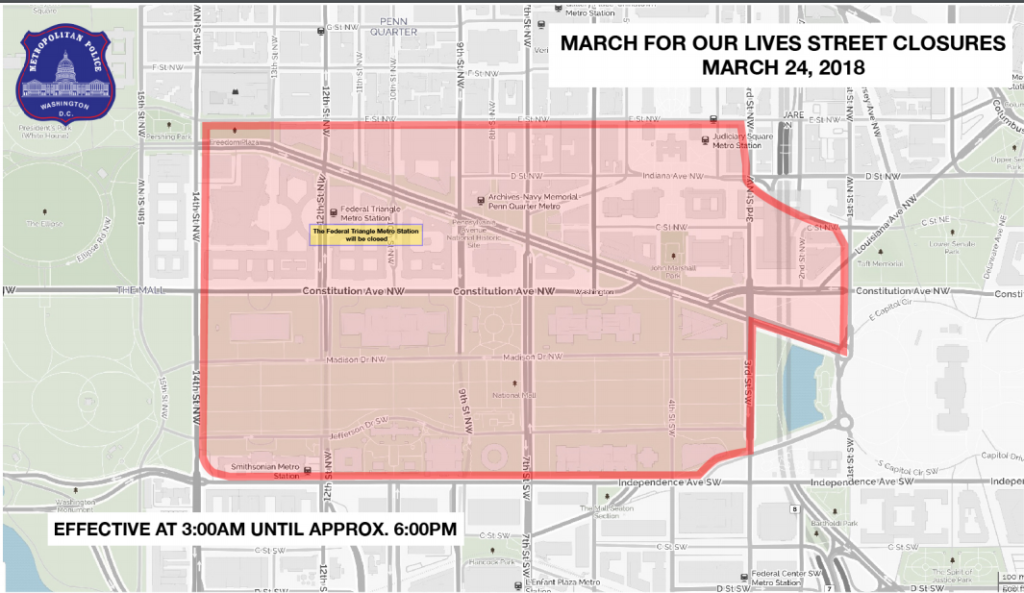 Driving to a Metro Station or Bus Drop-Off Point
Maryland State Police remind motorists that parking is prohibited on highways such as the Capital Beltway, US 50 and I-95. Drivers should plan to use parking lots provided at Metro stations, carpool, and public transportation. Vehicles parked on a controlled access highway, impeding the flow of traffic, or creating a hazardous condition will be towed at the owner's expense.
With the #MarchForOurLives set for Saturday, @mdsp is reminding motorists that parking is prohibited on controlled access highways such as the Capital Beltway, US 50 and I-95 in the Washington, D.C. area. MORE >> https://t.co/00w7z1BMsR #MDtraffic

— MD State Police (@MDSP) March 22, 2018
Metro is Ramping Up for Crowds
Metro is expecting large crowds on Saturday. Metro will run rush-hour service throughout the day to accommodate expected crowds. The rail system will open at 7 a.m. Metro urges riders to travel as early in the day as possible. In addition to running rush hour service, large items will not be permitted on Metrorail. These include bicycles, large coolers and other oversized items. The Federal Triangle Metro Station will be closed for the duration of the event. In addition, the 441 entrance to Judiciary Square Metro Station will also be closed.