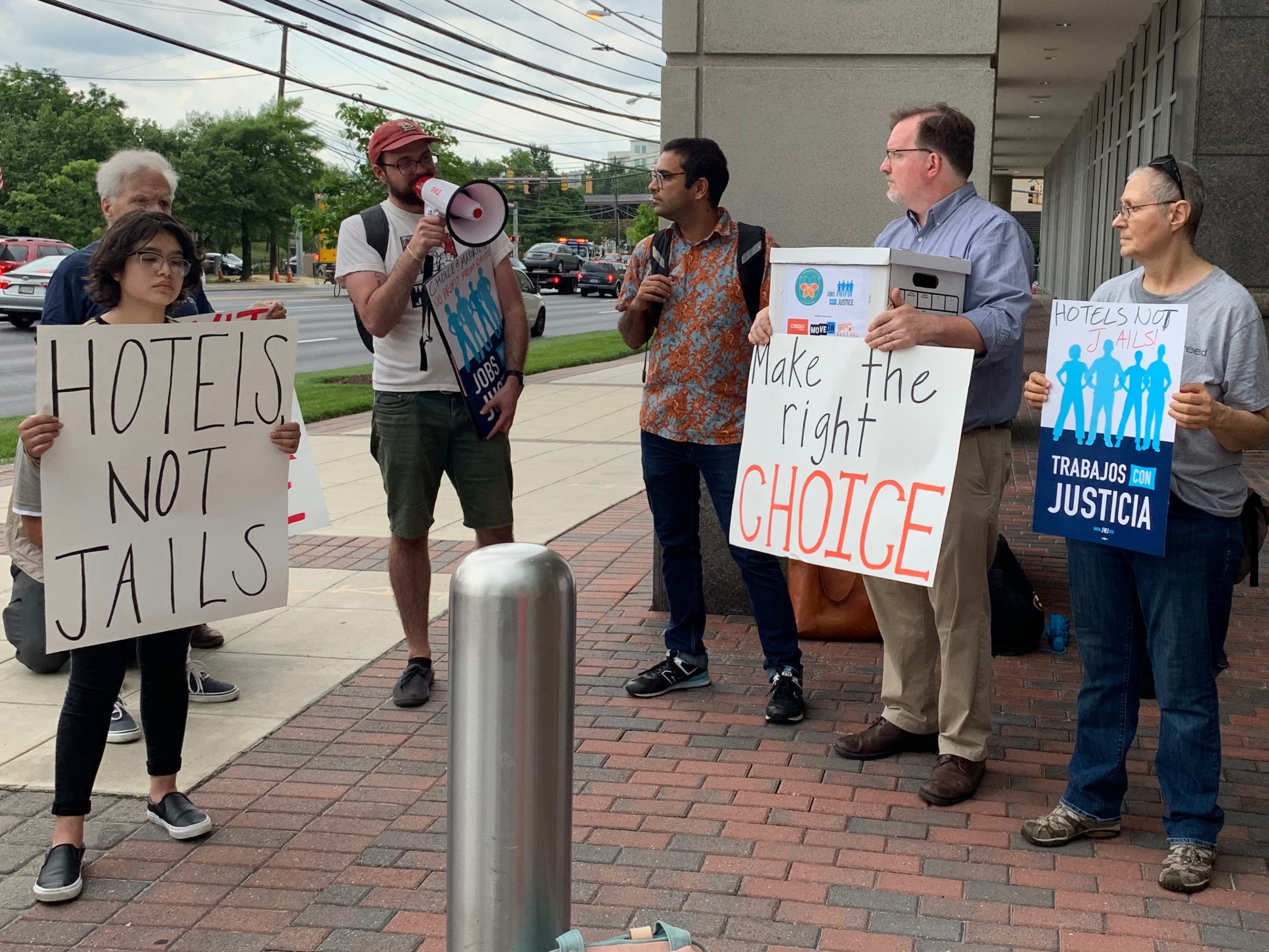 Marriott, Choice Will 'Decline' Requests to Use Hotels for Detention
Choice Hotels and Marriott International both provided protesters with assurances that their establishments would not be used to assist Immigration and Customs Enforcement deportation.
On Thursday, about 15 protesters organized by Sanctuary DMV delivered about 122,000 signatures in a petition calling for the companies to not assist ICE.
The agency is expected to deport 2,000 families starting Sunday, according to news reports.
Choice Hotels International issued this statement after receiving the petitions:
We are not aware that any of our franchised hotels, all of which are independently owned and operated, are being asked to serve as detention facilities. We do not believe hotels should be used in this way and will decline any requests to do so. We ask that our franchised hotels only be used for their intended purpose, which is to provide travelers with a welcoming hotel room.
A Choice Hotels spokeswoman on Friday said: "As a franchisor, all hotels in our system are independently owned and operated. Ultimately, each property makes decisions about their operations in accordance with applicable law."
Earlier, Marriott released this statement:
Marriott International has had no indication that any of our hotels have been contacted by the U.S. government to be used to detain individuals. Our hotels are not configured to be detention facilities, but to be open to guests and community members as well. While we have no particular insights into whether the U.S. government is considering the use of hotels to aid in the situation at the border, Marriott has made the decision to decline any requests to use our hotels as detention facilities.
Sanctuary DMV organizer Gaurav Madan said his organization expects other major hotel companies, including Best Western, Hilton, Wyndham, Intercontinental Hotels Group, Red Roof Inn and Motel 6 to take a similar position.