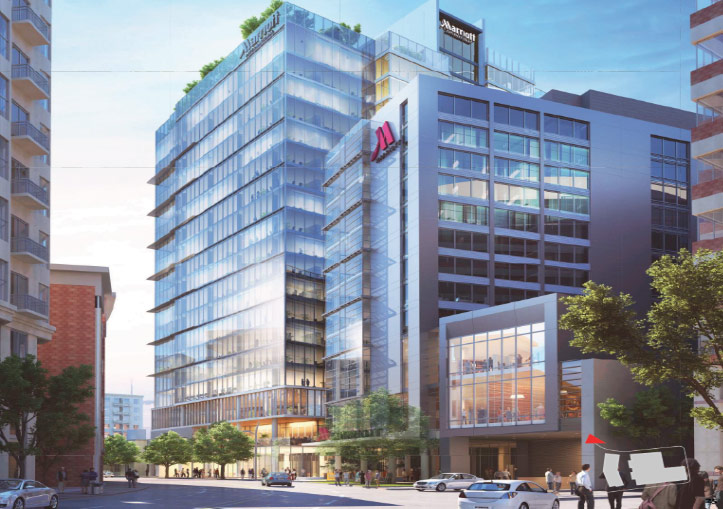 Marriott Selects Wisconsin Avenue Site for New Bethesda Headquarters and Hotel, Leggett Releases Statement
Marriott International officials announced on Friday that the company has signed a letter of intent with a joint venture between The Bernstein Companies and Boston Properties to develop its new corporate headquarters and hotel project in downtown Bethesda. The selected site is located at 7750 Wisconsin Avenue, at the corner of Wisconsin and Norfolk avenues, and spans two blocks to the south. It is just a short walk from the Bethesda Metro station.
According to a news release, the $600 million campus will include a 22-story build-to-suit office building and a 230+ room flagship Marriott hotel. The building is scheduled to open in 2022. The flagship hotel will feature over 8,000 square feet of flexible meeting and ballroom space for meetings, banquets and conferences, and a variety of dining and social amenities, including a ground floor restaurant with outdoor dining, a specialty coffee shop and a seasonal rooftop dining terrace.
"Montgomery County has been Marriott International's home for more than 60 years, and we take great pride in the strong relationships we've developed and the contributions we have made as a committed community partner," said Carolyn Handlon, executive vice president finance and global treasurer for Marriott International. "That's a tradition — and promise to the community –that started with Marriott's founders 90 years ago. We look forward to continuing that legacy as we create our 21st century home in downtown Bethesda and continue our work as the world's largest hotel company."
Montgomery County Executive Ike Leggett said he is pleased with Marriott's decision and the company's commitment to Montgomery County.
In a statement released today, Leggett said: "I want to congratulate Marriott International on the signing of a letter of intent with a development partnership between The Bernstein Companies and Boston Properties for development of a $600 million, 700,000 square foot new Headquarters building and a 230-room full-service Flagship Marriott Hotel located at the intersection of Wisconsin, Woodmont and Norfolk Avenues in Downtown Bethesda. I am pleased with Marriott's decision and its continued commitment to remain here in Montgomery County. I also want to thank Governor Hogan and his Administration for their unwavering support of this significant project. This project retains the headquarters of Montgomery County's largest private employer, strengthens our tax base, and brings even more vibrancy to downtown Bethesda. Marriott has been a first-class corporate citizen and a great partner for the County."
You can find out more about Marriott's decision and the site, here.