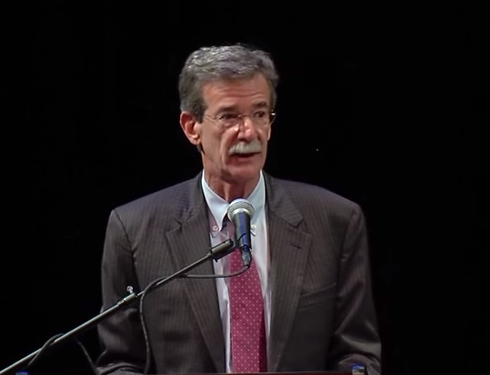 Maryland Challenges Appointment of Trump's Acting Attorney General
Maryland Attorney General Brian Frosh filed a motion against the Trump administration, claiming the appointment of acting attorney general, Matthew Whitaker, is illegal.
The motion argues the power associated with the attorney general position should belong to Deputy Attorney General Rod J. Rosenstein, who was next in the line of succession to serve as acting attorney general.
Critics of the president argue that Trump bypassed Rosenstein's appointment because of Rosenstein's involvement overseeing Robert Mueller's Russia investigation. Whitaker said this investigation was "going too far." As such, Frosh called Whitaker "a partisan and unqualified staffer."
The motion calls the appointment illegitimate because Whitaker wasn't confirmed by the Senate. Frosh said the president cannot "bypass the constitutional and statutory requirements for appointing someone to that office."
The state of Maryland, therefore, is asking Judge Ellen L. Hollander, from the federal District Court for the District of Maryland, to make a ruling determining the legitimate acting attorney general: Whitaker or Rosenstein.
This is not Frosh's first time suing the Trump Administration. Frosh told MCM's Mitti Hicks he is suing Trump for violating anti-corruption laws, and for using the census improperly.
But Maryland's current motion is relevant to Maryland's ongoing lawsuit from September, suing the ousted Attorney General Jeff Sessions for "his official capacity" joining in with a Texas case that attempted to "dismantle" the Affordable Care Act.
In June, the Justice Department refused to defend the ACA in a Texas Case that attempted to tried to throw out Major ACA provisions, like protecting individuals with pre-existing conditions. They also argued that the Tax Cuts and Jobs Act had made the Obama Administrations the healthcare tax mandate unconstitutional.
Judge Hollander's ruling will determine who can legally substitute for Sessions as a defendant in this ACA suit.
"The health care of millions of Marylanders and Americans is at stake," said Frosh. "The suit cannot go forward without a legitimate Attorney General, and an Acting Attorney General making decisions that could affect matters of life and death without lawful authority puts all of us at risk."
Read Frosh's Press Release:
Information about Other Lawsuits Against the Trump Administration Frosh is Pursuing:
Discovery schedule submitted to the Court. Progress in our #emoluments case to stop President Trump from violating our nation's original anti-corruption law. Thanks to our co-counsel @CREWcrew @deepakguptalaw @CohenMilstein. https://t.co/ToH3ZalcAJ

— Brian Frosh (@BrianFrosh) September 14, 2018
Trump's Census Director admits that adding a citizenship question will reduce response rates in "immigrant populations [and] Hispanic populations." More states and cities joined our lawsuit. We will not let Maryland be shortchanged. pic.twitter.com/5K01eEILci

— Brian Frosh (@BrianFrosh) May 1, 2018