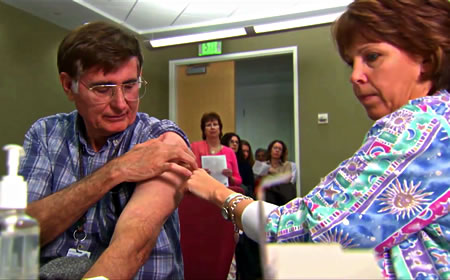 Maryland Health Department Confirms First Flu Case of the Season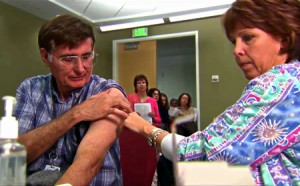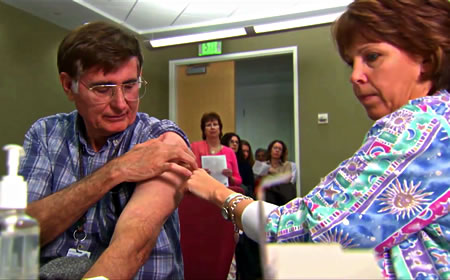 The first laboratory-confirmed case of seasonal influenza in Maryland has been diagnosed in an adult in the Baltimore metropolitan area, according to a news release issued by the Maryland Department of Health and Mental Hygiene. The individual was not hospitalized. The flu strain was type A (H1N1).
"The flu remains a highly contagious disease that seriously affects people each year," said Department of Health and Mental Hygiene Secretary Van Mitchell. "There are steps Marylanders can take to protect themselves and their loved ones – chief among which is getting vaccinated."
Influenza is a contagious respiratory disease that can cause serious complications, hospitalization or even death. The virus that causes influenza spreads from person to person through coughing or sneezing, as well as through direct contact with infected people and contaminated surfaces or objects. Common symptoms include fever, cough, sore throat, body aches and fatigue, and usually begin one to four days after a person has been exposed to the virus.
The influenza vaccine is the best way to protect yourself and your family from becoming ill with the flu. Yearly vaccinations are important because the strains of influenza that circulate change over time. Influenza vaccine is recommended for everyone older than 6 months. It is important for people at high risk for flu-related complications and severe disease, including:
–Children 6 months to 18 years old;
–People 50 and older;
–Pregnant women;
–People of any age with chronic medical conditions;
–People undergoing therapy, or with a condition that may weaken their immune systems,
–People caring for someone in these groups also should be vaccinated to avoid spreading the disease to them. These people include healthcare workers, household contacts of individuals at risk for complications from the flu, and daycare or school workers.
The vaccine is widely available, and Maryland residents are urged to get protected now by contacting their health care provider, local health department or neighborhood pharmacy. MedImmune, the manufacturer of FluMist, the nasal spray vaccine, has announced that the distribution of FluMist vaccine will be delayed. Flu shots, however, remain plentiful and widely available.
Montgomery County health centers are hosting flu shot clinics, for anyone six months of age or older, on Nov. 6, Nov. 12 and Nov. 17 in Germantown and Silver Spring. You can schedule an appointment, here, or call 311.
You can find a schedule, below:
Friday, November 6
8 a.m. to 4 p.m.
Silver Spring Health Center
8630 Fenton Street, 10th floor
Silver Spring
Thursday, November 12
8 a.m. to 4 p.m.
Germantown Health Center
12900 Middlebrook Road, 2nd floor
Germantown
Tuesday, November 17
8 a.m. to 4 p.m.
Silver Spring Health Center
8630 Fenton Street, 10th floor
Silver Spring
If you believe you are ill with the flu:
–Contact your healthcare provider for management of flu symptoms or treatment of any complications.
–Get rest and drink plenty of fluids.
–Cover your mouth and nose when sneezing or coughing.
–Use alcohol-based hand sanitizers and wash your hands with hot water and soap often.
–Avoid crowded places like shopping malls or public transportation.
–Avoid unnecessary visits to hospitals or other settings where people with other conditions may get your flu and may be affected severely.
–Stay home from work or school whenever possible to avoid spreading the flu to your friends and coworkers.
Last season, the first confirmed case of influenza was reported on October 9, 2014.
You can stay up-to-date on influenza activity in Maryland by visiting http://dhmh.maryland.gov/fluwatch for weekly updates.