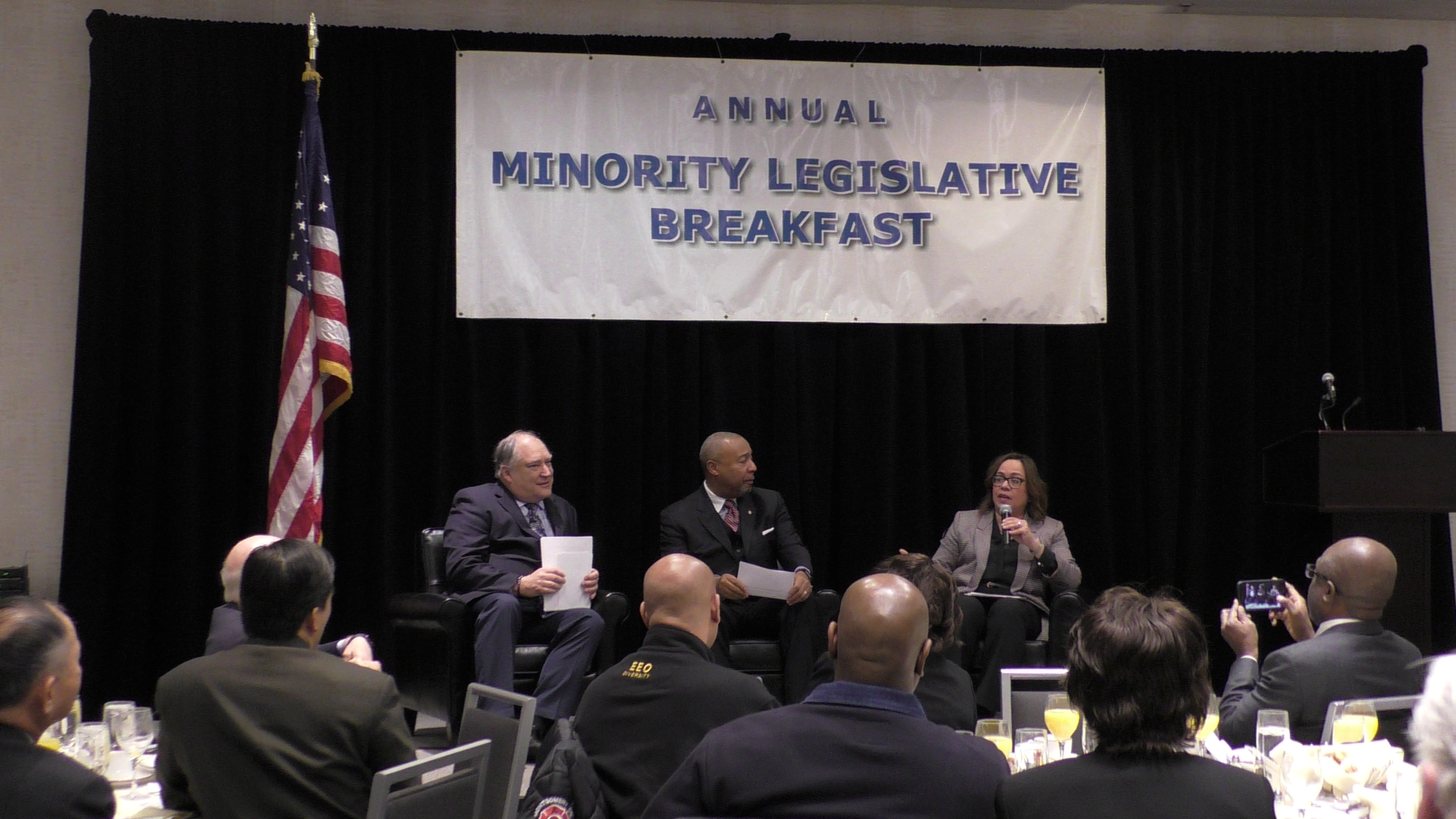 Maryland Politicians Meet with Minority Business Leaders Over Breakfast
The Minority Legislative Breakfast brought together politicians throughout Maryland to hear the legislative priorities of minority business leaders. Indeed, the African American Chamber of Commerce of Montgomery County, the Asian American Political Alliance, and the Hispanic Chamber of Commerce of Montgomery County hosted this event, which featured speeches from federal, state, and county level politicians.
Above all, this breakfast, now in its 18th year, provides opportunities for Montgomery County's minority business leaders to share their concerns with elected officials.
Carmen Ortiz Larsen, the president of the HCCMC, expressed a need for stronger communication between minority small business leaders and the county executive.
"When legislation is put forward that has an impact on business, a lot of times, people don't consider what the impact could have on small businesses," said Larsen. "Small business [owners] should have a voice when legislation is being proposed that could have an impact on them."
Incidentally, during the event, Elbridge James, former president of Progressive Maryland, moderated a discussion with County Executive Marc Elrich (D) and County Council President Nancy Navarro (D). The conversation focused on how Montgomery County's new leadership will work for minority groups and minority small business owners.
Thereupon, Elrich and Navarro discussed a number of issues the council plans to address: the opioid crisis, affordable housing, better quality early childhood education and more. For Elrich, ensuring that children have a strong education from a young age can prevent problems that arise at higher grade levels.
Further, Navarro said the council plans to put through equity legislation, to help close disparity gaps.
"Since this is the minority breakfast, all of this [conversation] should rely on our ability to structure every decision that we make through an equity lens," said Navarro.
Additionally, U.S. Sen. Ben Cardin (D), Rep. Jamie Raskin (D), Rep. John Sarbanes, State Sen. Craig Zucker, and State Del. Marc Korman spoke at the event.
All politicians noted that Montgomery County has pushed Maryland forward because of its diverse community. But, they still agree more work needs to be done in regard to healthcare, immigration, gun control, and voting rights.
"The people in this room are the backbone of Montgomery County's politics, which have been so much in the forefront of Maryland a beacon to the rest of the county," said Raskin.
Photos From Minority Legislative Breakfast
Tweet Recap of the Event
Senator @BenCardinforMD is about to speak pic.twitter.com/0zp1PEw070

— Deirdre Byrne (@DeirdreByrneMCM) December 7, 2018
Leaders have been talking about maintaining strong healthcare for Minority groups. pic.twitter.com/bbCavOTsyu

— Deirdre Byrne (@DeirdreByrneMCM) December 7, 2018
Maryland's house is predominantly female. pic.twitter.com/o0OB1Qvh6d

— Deirdre Byrne (@DeirdreByrneMCM) December 7, 2018
Carman Lawson (I apologize if I misspelled your name) concludes the breakfast.

"Small business is what this county has to benefit from."

— Deirdre Byrne (@DeirdreByrneMCM) December 7, 2018
She tells the county executive that small businesses need more support. pic.twitter.com/4ncvfiJxVF

— Deirdre Byrne (@DeirdreByrneMCM) December 7, 2018
"We are going to defend and protect the Affordable Care Act," Senator @BenCardinforMD assured business leaders at the Minority Legislative Breakfast in Bethesda. pic.twitter.com/TTgsT50xCL

— Deirdre Byrne (@DeirdreByrneMCM) December 7, 2018
Senator @BenCardinforMD urges officials to stand up to hateful rhetoric. #MinorityLegislativeBreakfast pic.twitter.com/iCjob0OfsH

— Deirdre Byrne (@DeirdreByrneMCM) December 7, 2018