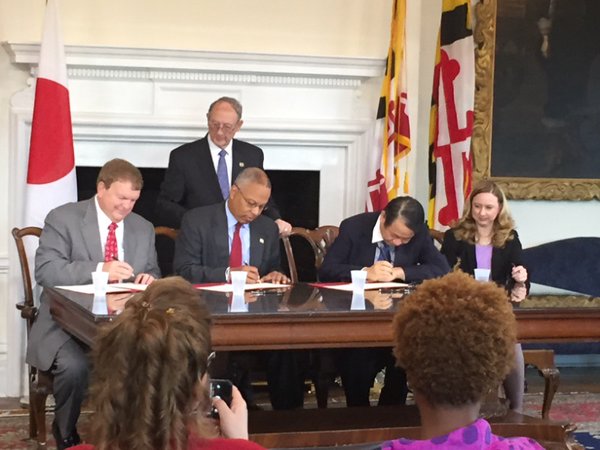 Maryland Signs Driver's License Reciprocity Agreement with Japan (PHOTO)
Lt. Governor Boyd Rutherford and Deputy Chief of Mission Hrioyasu Izumi of the Japanese Embassy signed a driver's license reciprocity agreement between Maryland and Japan on Friday, Nov. 13.
According to a news release, the agreement allows Japanese citizens living in Maryland to obtain license without taking the driving or written license exams, if they already have a license in Japan. Japan will also allow the same option for Maryland residents living there.
"This agreement is another symbol of our strong relationship with Japan,"  Rutherford said. "The reciprocity agreement is fair and equitable and provides benefits to both of our economies by streamlining the process for obtaining a license and encouraging trade between our countries."
Transportation Secretary Pete K. Rahn and Motor Vehicle Administrator Christine Nizer also signed the memorandum of cooperation. Secretary of State John C. Wobensmith oversaw the process along with his partners in Japanese Embassy. Members of the Japanese delegation were also in attendance.
The agreement only applies to non-commerical driver's licenses and drivers are required to pay associated fees and pass a vision test. Drivers will also be required to take a three-hour long drug and alcohol course. This is required for anyone who wants to obtain a Maryland driver's license from outside of the country.
Maryland and Japan went through a process to make sure licensing requirements were compatible to ensure driver safety. Maryland has similar agreements with France, the Republic of Korea (South), the Federal Republic of Germany ,and Taiwan (Republic of China).