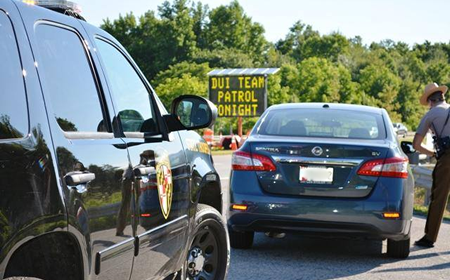 Maryland State Police Dedicate DUI Enforcement Efforts in Memory of Officer Noah Leotta (PHOTO)
Maryland law enforcement officials will be ramp up enforcement of speed limits, seat belts and DUI laws this holiday season. The State Police Impaired Driving Reduction Effort and troopers statewide will focus their efforts on impaired, distracted and aggressive drivers.
Maryland State Police Superintendent Colonel William M. Pallozzi said in a news release, "There is no excuse for impaired driving, so we will accept no excuse. State troopers and law enforcement officers throughout Maryland are focused on identifying and arresting impaired drivers, whose numbers always increase during the holiday season. We are dedicating efforts this year to the memory of Montgomery County Police Officer Noah Leotta, who was struck less than three weeks ago by an alleged impaired driver and died at the age of 24."
Maryland State Police have made more than 6,700 DUI arrests this year.
Maryland State Police have the following tips to keep roads safe this holiday season:
Have a plan before you drink any alcoholic beverages. One drink can impair your judgement and increase the risk of getting arrested for driving drunk
Designate a driver
Be attentive while traveling this holiday
Ensure everyone is secured by a seatbelt
Call 911 to report drunk drivers