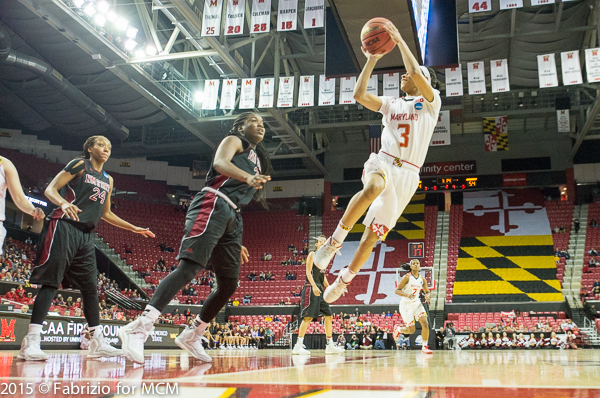 Maryland Women Moving On in NCAA Tournament (PHOTOS)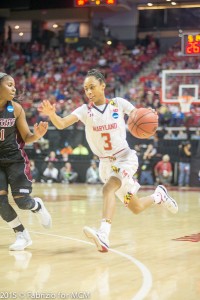 The University of Maryland's basketball team defeated the New Mexico State Aggies 75-57 in the first round of the Women's NCAA tournament at College Park on March 21. On a day that POTUS visited the Xfinity Center to watch his niece play for the Princeton Tigers in the preliminary matchup, the Lady Terps were the main draw for the 7,948 spectators.
The 16th seeded Aggies, winners of the All Intermountain Conference fought hard to maintain a distance of 10 points at half in which Maryland led 42-32.
All-Met and Paint Branch high school star Brene Moseley enjoyed a first half in which she played 13 minutes at point guard allowing her Maryland teammate Lexie Brown to move over to the off guard position. For the game Moseley had 20 minutes total, playing sparingly in the second half and mostly at the end of the game. She finished with 6 points and 4 assists and a smile on her face.
The redshirt junior looks like she is playing the best ball of her career now at Maryland and that can only mean good things for her and the Terps.
Maryland plays on Monday evening at 6:30 in the round of 32 and will face an undefeated and 8th seeded Princeton team whose record is 31-0.
PHOTOS | Phil Fabrizio
@Photoloaf