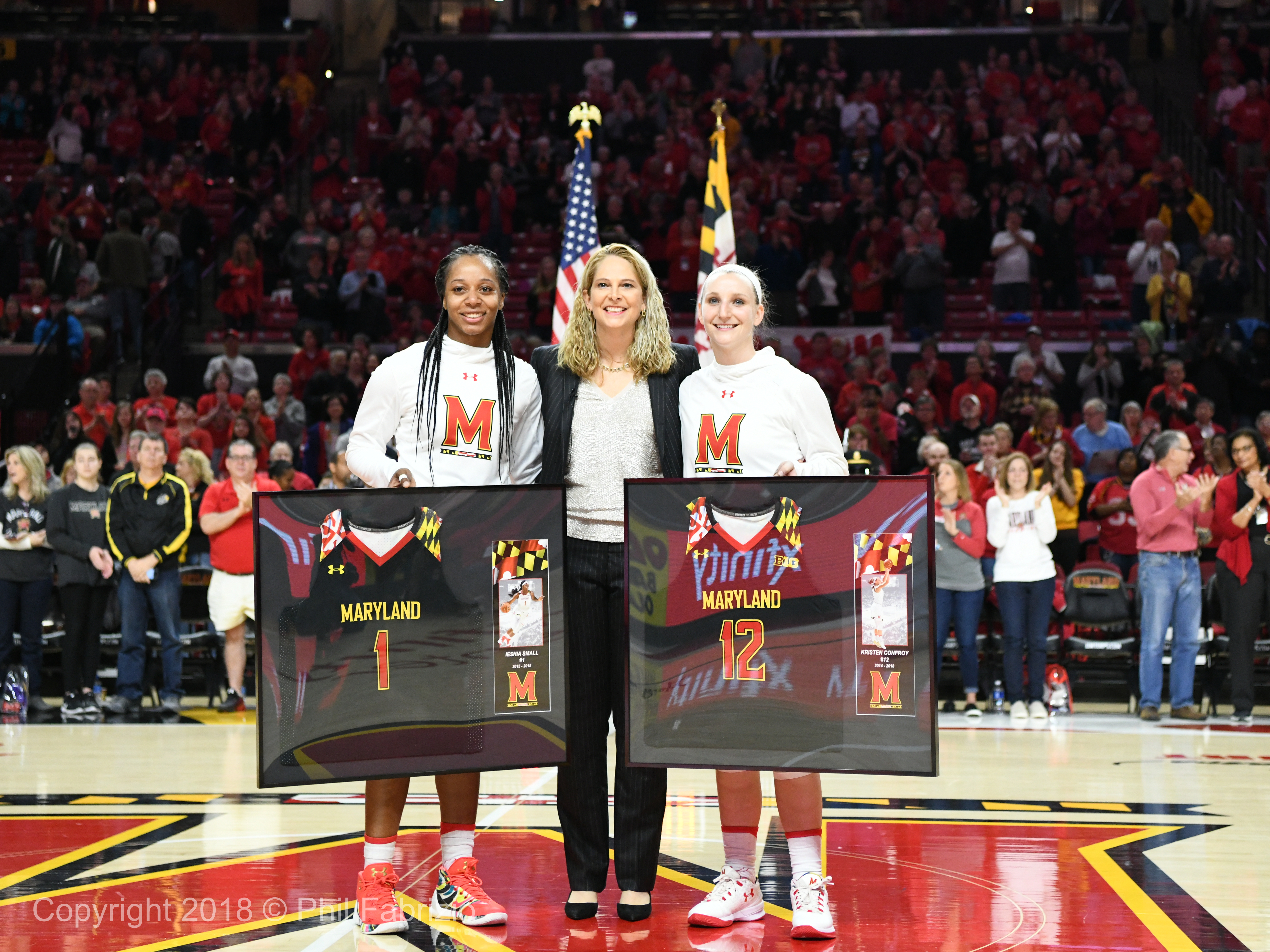 Maryland Women Win B1G on Senior Day
Senior Day at the University of Maryland featured a pregame ceremony for two seniors, Ieshia Small and Kristen Confroy, Sunday, Feb. 25 in College Park.  Both seniors lived through the transition of Maryland joining the Big Ten Conference.  Both Small and Confroy contributed to a 77 – 75 win over Nebraska to secure the second seed in next weeks B1G Conference Championship in Indianapolis.
In what was a close match for much of the third and fourth quarters the Maryland women eked out a win after losing three straight conference games.  Confroy had 6 points for the game and Small contributed 5 key points in the third quarter.  Maryland's Kaila Charles led all scorers with 19 points.
Nebraska kept the contest close in the second half outscoring the Terps 39 to 33 after falling behind by 14 in the second quarter.  In the final minute of the game the Huskers had numerous opportunities to close out the Terps at home but fell short in the final seconds when Hannah Whitish's 3 point attempt with less than 3 seconds clanked off the rim and Maryland rebounded the miss to secure the two point win.
During her years at UMD, Confroy helped the Terps to a record of 120-16, the 2015 Final Four and three Big Ten regular season and tournament titles during her four years.  Small, who transferred to Maryland in 2015 participated and shaped a 55-9 record during her tenure.  Both seniors will play a pivotal role in the upcoming Big Ten Tournament as the #13 ranked Terps look to lock in another conference title championship.
Photos to follow
All photographs copyright 2018 © Phil Fabrizio | Photoloaf® for MCM