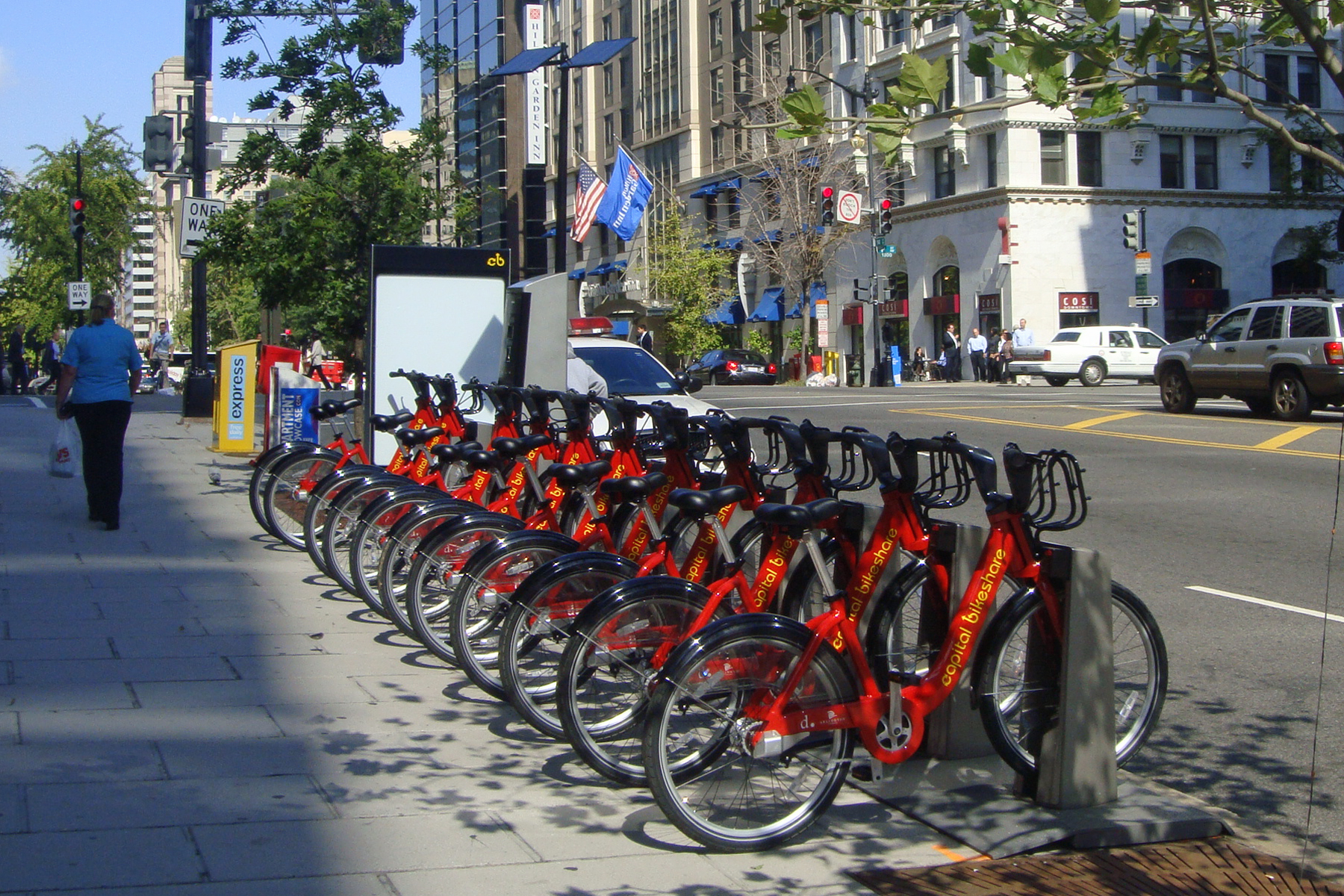 Maryland's First Bikeshare Program Launches Sept 27
Maryland will launch its first bikeshare program on Sept. 27 in Rockville at a ceremony at Courthouse Square at 10:30 a.m. The ceremony will inlcude County Executive Isiah Leggett, Maryland Department of Transportation Secretary James T. Smith, Jr., Rockville Mayor Phyllis Marcuccio and many others. The Capital Bikeshare program is a network of bicycle-sharing stations that provides short-term access to bikes and offers an alternative to driving. The program allows cyclists to rent a bike from a designated station and drop it off at any other station within the Capital Bikeshare network.
Rockville was recognized as a Bicycle Friendly Community at the Bronze Level by the League of American Bicyclists in 2012. According to Mayor Phyllis Marcuccio, being a part of the Capital Bikeshare network reinforces this designation: "The addition of the Capital Bikeshare system to Rockville will help increase the visibility of bicycling as a legitimate mode of transportation in Rockville and help us become an even more Bike Friendly Community."
More than 1,800 Bikeshare bikes are already in circulation across Washington, D.C. and Virginia, and the stations in Rockville will be some of the first locations for the Capital Bikeshare network in Maryland.
Twenty-one stations will be coming to the Rockville/Shady Grove/Life Sciences Center area, 13 of which will be within the city limits of Rockville. The first installments of the Rockville stations will be ready to coincide with a launch event happening Friday, Sept. 27, at Courthouse Square, 10:30 a.m., in partnership with Montgomery County.
The event is a chance for the public to learn more about the program with local officials and city of Rockville and Montgomery County staff.
The public can start signing up now for Capital Bikeshare memberships of varied lengths by going to www.capitalbikeshare.com Costs of membership range from $75 for an annual membership to $7 for a 24-hour membership.
Low-income residents may be eligible for free bikeshare services, including a one-year membership, bike helmet, and bike safety training, thanks to the Job Access Reverse Commute (JARC) program offered through Montgomery County. This program aims to provide more convenient options to lower-income workers for commuting to work, job training or school. To learn more about the free membership and how to qualify for the program, email mcdot.bikeshare@montgomerycountymd.gov or call 240.777.8380.
A project that has been in the works since fall 2011, the Capital Bikeshare expansion into Montgomery County was made possible through a partnership among Montgomery County, the Maryland Department of Transportation, the National Capital Transportation Planning Board, the Federal Transit Administration and the City of Rockville, as well as the Montgomery County Planning Board and private sector donations.
For more information on Capital Bikeshare in Rockville, contact Kevin Belanger, bicycle and pedestrian coordinator, at kbelanger@rockvillemd.gov.
Capital Bikeshare is a bikesharing program developed through a partnership among the District Department of Transportation, ArlingtonCounty, MontgomeryCounty, and the City of Alexandria. Capital Bikeshare offers five different membership options, Daily Key ($10), Annual ($75), Monthly ($25), 5-Day ($15) and 24-hour($7) for access to a fleet of 2,000 bicycles located at over 250 stations across Washington, D.C., Alexandria and Arlington, VA., and Montgomery County, MD. Additional information about Capital Bikeshare is available at www.CapitalBikeshare.com.
Previous posts