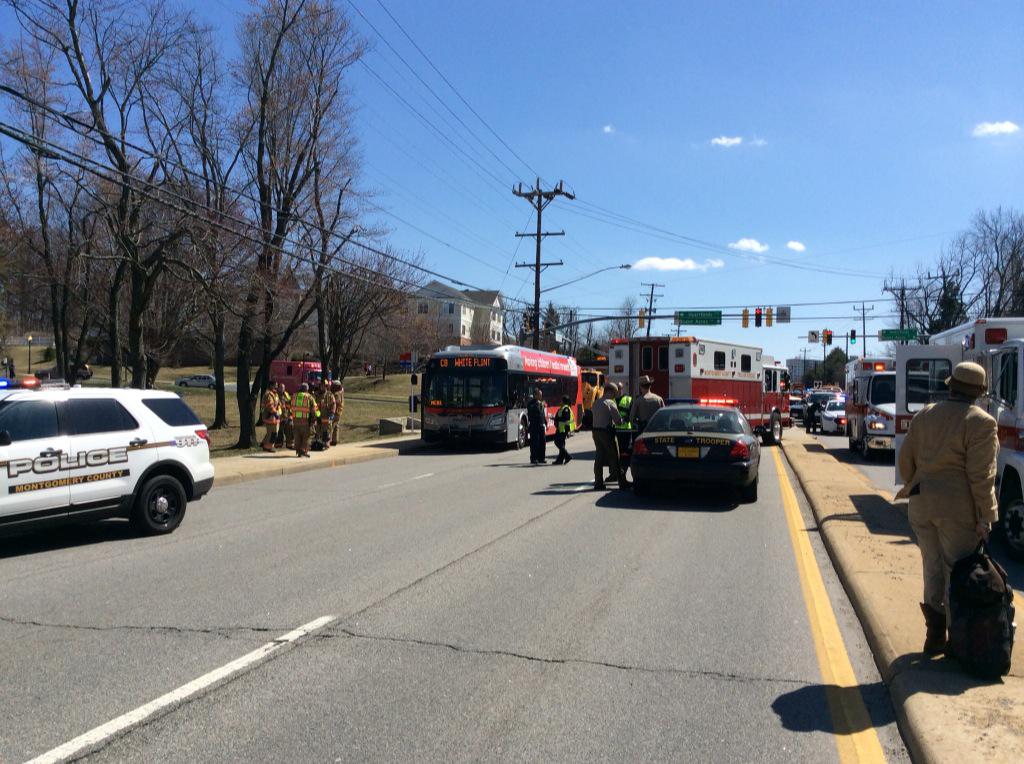 UPDATED: Mass Casualty Incident in White Oak
UPDATED, April 1, 2:45 p.m. – Ten passengers on a Metro bus were injured when the bus they were riding in collided with a dump truck on New Hampshire Avenue near Tracey Drive in White Oak.
One child and nine adults were injured in the collision including the bus driver, according to Montgomery County Fire and Rescue Spokesman Pete Piringer. None of the injuries appear to be life-threatening, he said. The driver of the dump truck was not injured in the crash.
One lane of northbound New Hampshire Avenue is open at Heartfields Drive.
Traffic Advisory – NB New Hampshire Av, 1 Lane gets by to Left, SB all lanes OPEN pic.twitter.com/6187FTE2IL

— Pete Piringer (@mcfrsPIO) April 1, 2015
More….NB NH Av BLOCKED….truck driver not injured; 9 adults, 1 child transported NLT injuries, incl bus driver pic.twitter.com/f9rjwcQUR3

— Pete Piringer (@mcfrsPIO) April 1, 2015
ORIGINAL –  Montgomery County Fire and Rescue Services have declared a mass casualty incident in White Oak where a Metro bus and dump truck have reportedly collided. MCFRS Spokesman Pete Piringer reported there could be up to two dozen patients involved in the incident. He said at 2:15 p.m., ten patients were being transported to an area hospital with non-life-threatening injuries.The accident at New Hampshire Avenue and Tracey Drive has the northbound lanes blocked at Heartfields Drive.
update – New Hampshire Av- declared Mass Casualty Incident, numerous #mcfrs resources on the scene, EMS evaluating possibly 2 dozen patients — Pete Piringer (@mcfrsPIO) April 1, 2015
Traffic Advisory – New Hampshire Av & Tracey Dr, collision, dump truck & Metro Bus, EMS evaluating multiple patients — Pete Piringer (@mcfrsPIO) April 1, 2015