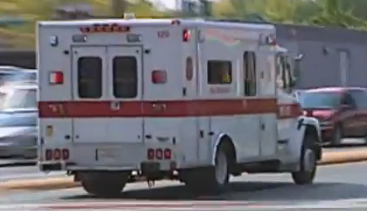 MCFRS Ambulance Crew Hospitalized After Being Struck by A Vehicle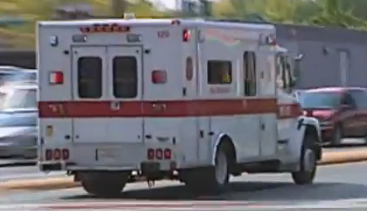 UPDATED A Montgomery County Fire and Rescue Services (MCFRS) volunteer ambulance crew is hospitalized with serious injuries today after being struck by a vehicle overnight while on duty at I-495 between River Road and I-270.
Maryland State Police have identified the volunteers as Glen Echo Fire Department Emergency Medical Technician (EMT) Thomas Schryver, 26, and EMT Sydney Marshall, 19. Both were transported to Suburban Hospital.
Troopers said the crash happened at about 12:15 a.m. on Feb. 15.
According to the preliminary report, the two EMTs had responded to a previous crash and were attending patients inside a 2014 Toyota Corolla that was on the right shoulder of the inner loop of I-495 at River Road. Police said a county ambulance was also on the shoulder with emergency lights activated.
That's when a driver in a 2005 F-150, who was approaching the scene and, police said, for unknown reasons lost control of his vehicle. Police said the pickup truck skidded across two lanes of I-495 and onto the shoulder and struck the Toyota in the rear and both EMT volunteers. The pickup then struck the ambulance before coming to rest, according to police.
Police have identified the driver of the pickup truck as Maximillano Curcho, 34, of Clarksburg.
According to police, the people in the Toyota were transported to Medstar Hospital for treatment. It is not known if they sustained additional injuries in the second crash.
On his Twitter account, Piringer said at least six trauma patients were transported from this scene. He described both of the EMT workers injuries as "serious." Piringer said their prognosis is "good."
Maryland State Police said this investigation is ongoing. Nothing has been ruled out at this time as a possible cause of the crash. No charges have been filed at this time, pending the outcome of evidence analysis and the crash investigation. Anyone who may have witness this crash is urged to contact the Maryland State Police Rockville Barrack at 301.424.2101.
The roadway was snow covered when the crash occurred. Due to the investigation, the road remained closed for over five hours.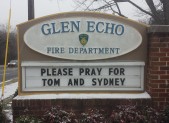 The two paramedics seriously injured in an accident on I-495, while they were responding to another call early Sunday morning, continue to recover from their injuries. In an update posted on the Glen Echo Fire Department's Facebook page, John Witherspoon, president of the Conduit Fire and Glen Echo Fire Department, said medic Tom Schryver remains […]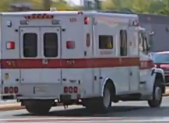 UPDATED A Montgomery County Fire and Rescue Services (MCFRS) volunteer ambulance crew is hospitalized with serious injuries today after being struck by a vehicle overnight while on duty at I-495 between River Road and I-270. Maryland State Police have identified the volunteers as Glen Echo Fire Department Emergency Medical Technician (EMT) Thomas Schryver, 26, and […]
Update – 2 #mcfrs EMS workers are hospitalized after being struck last nite, both have serious injury, but prognosis for both is good

— Pete Piringer (@mcfrsPIO) February 15, 2015
Update – #mcfrs EMS workers struck by vehicle both adults, 1 female (Pri2), 1 male (Pri1), both serious, prognosis GOOD, both hospitalized

— Pete Piringer (@mcfrsPIO) February 15, 2015
U/D – IL beltway just N of River Rd, 2 EMS crew members struck, 1 Pri1, 1 Pri2; 3 adults trapped in car, all Pri2; & 1 other adult NLT inj

— Pete Piringer (@mcfrsPIO) February 15, 2015
Update – MoCo Beltway, all patients have been extricated, Beltway is CLOSED

— Pete Piringer (@mcfrsPIO) February 15, 2015
Beltway – some people are being extricated, numerous #mcfrs fire/rescue/EMS units on scene, several injuries are serious, at least 6 traumas

— Pete Piringer (@mcfrsPIO) February 15, 2015
Mass Casualty Incident – Beltway between River Rd & I270 Spur, among others an EMS unit & crew were struck while on scene of an incident

— Pete Piringer (@mcfrsPIO) February 15, 2015
U/D – 3 persons trapped in vehicle, all 3 are Pri2 traumas, several other already transported, inc 1 Pri1 trauma, serious life-threatening

— Pete Piringer (@mcfrsPIO) February 15, 2015
UPDATE – IL Beltway #mcfrs ambulance & crew struck along w/ other vehicles, icy conditions, EMS evaluating at least 6 traumas, some serious

— Pete Piringer (@mcfrsPIO) February 15, 2015
Traffic Advisory – IL I495 between River Rd & I270 Spur CLOSED, multi-vehicle collision, treacherous road conditions Road CLOSED

— Pete Piringer (@mcfrsPIO) February 15, 2015
Update – #mcfrs units on scene IL I495 btwn River Rd & Spur, ambo & crew struck by vehicle, multiple injuries, several serious injuries

— Pete Piringer (@mcfrsPIO) February 15, 2015