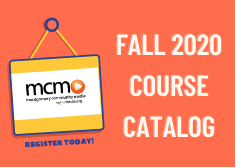 MCM Fall 2020 Media Course Catalog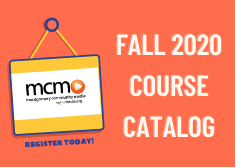 Montgomery Community Media is rolling out a full fall schedule of classes for students ages 13 and up. This fall MCM is launching its new MCM Youth Media Academy in addition to adding several new adult and mixed aged classes.
The MCM Youth Media Academy is a collection of media courses offered by Montgomery Community Media that are designed to engage youth in quality media instruction tailored to their age group. Each course is taught by an industry professional with experience facilitating youth-centered courses
Montgomery Community Media classes for adults and mixed-age groups are interactive courses intended to help students build media skills and help MCM members prepare to create digital content for broadcast on the internet and on cable stations 19 and 21. Classes are taught by industry professionals and have limited capacity
Registrants are encouraged to register early for courses to ensure they will be offered. We may cancel classes with an enrollment of less than four people.
Title: Fall 2020 Course Catalog