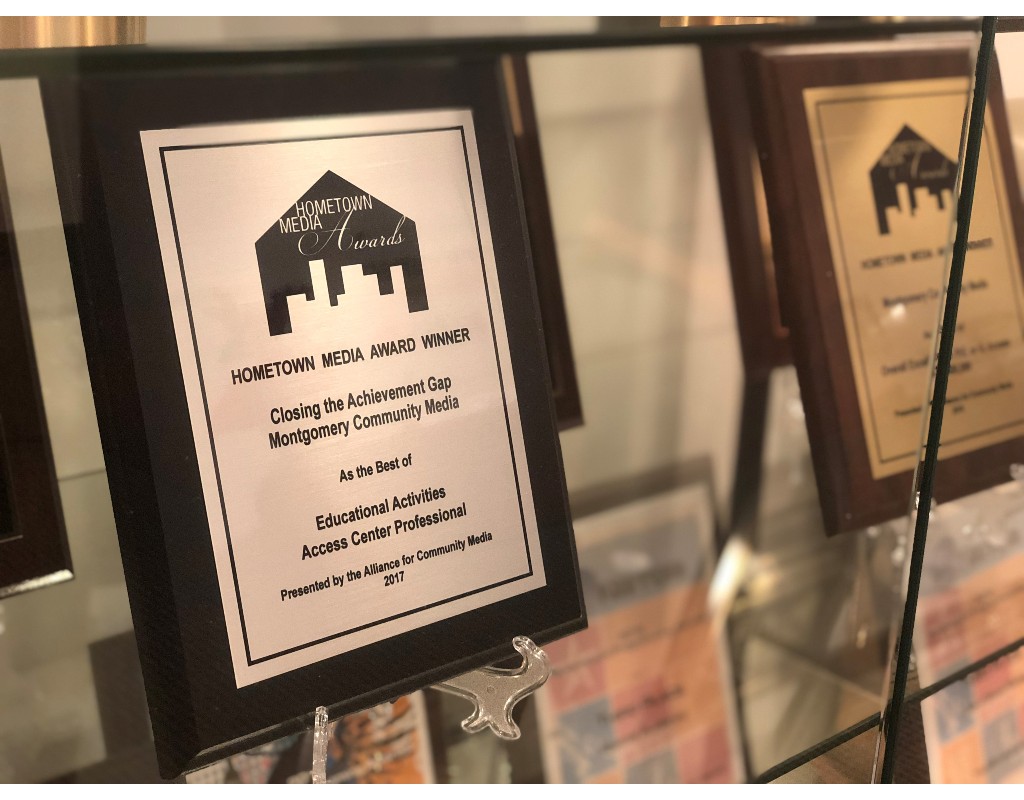 MCM Wins Three ACM Awards Including Overall Excellence
Montgomery Community Media was announced as the recipient of three ACM Hometown Media Awards Wednesday. One of the awards include the 2019 Overall Excellence Award presented by The Foundation of the Alliance for Community Media (ACM). This award is described to be one of the "highest" awards to win.
The Foundation of the Alliance for Community Media is a national membership organization that was founded in 1976. According to the organization's website, ACM's mission as organization is to:
"…advocate, promotes and preserves the right to media training, production, distribution, civic engagement and education in support of diverse community voices, through Public, Educational and Government Access channels."
The Hometown Media Awards (HMA) is an annual event that is hosted by the Alliance of Community Media and over one thousand entries are submitted.
Honor and promote community media by submitting them to the Hometown Media Awards program! Deadline next Friday. https://t.co/QxjUfyv8X2 https://t.co/QxjUfyv8X2

— AllianceforCommMedia (@alliancecm) February 20, 2019
ACM describes the Hometown Media Awards as a way to "honor and promote community media and local cable programs that are distributed on Public, Educational and Governmental (PEG) access cable television channels."
Montgomery Community Media (MCM) is delighted to announce being the winner of the following 2019 HMA awards in their responding categories:
Overall Excellence Award (Category: Public Access)
The other honored programs are:

The Silver Spring Blues Festival (Category: Local Performances)
Manage Your Damn Money (Category: Information Talk Show Single Episode)
Production and Studio Manager of Montgomery Community Media, Vincent Sarageno, served as a judge in this year's Hometown Media Awards competition.
"The ACM helps give people in communities all around the nation a voice by allowing them to access equipment, facilities and training that they would otherwise not have at their disposal," said Sarageno.
As a ACM judge, Sarageno breaks down who was eligible to enter the HMA's and how they were judged.
"Every year the ACM holds a conference and the highlight of the conference is the 'Hometown Media Awards'. Students, Volunteer Producers and Production Departments for Community Media Centers can enter videos into any of the 60 categories and be judged by people who work at Community Media Centers around the nation. Those results are tallied and on April 16th the ACM announced what videos won awards. On July 12th at the ACM conference, winners will find out what place (1st, 2nd or 3rd) that they came in," said Sarageno.
Chief Executive Officer of Montgomery Community Media, Nannette O. Hobson, wrote congratulatory words in an email sent to the staff of MCM.
"Both shows were done in partnership with community organizations and/or producers," said Hobson. "They are representative of how hard we work and the fantastic programs we achieve."
The Alliance for Community Media's 2019 Annual Conference "New Paths" will be held in Portland, Oregon this year on July 10 – 12th.